26 years of pressing hard
Talk | Saturday 21 September | 2.30pm | 1 hour
Michael Landy will discuss the central role of drawing in his practice. Perhaps best known for his large-scale installations such as Break Down (2001), which saw him destroy all his worldly possessions over a two-week period, Landy is also an accomplished draughtsman, working in exceptional detail and often in large series or making preparatory drawings as a means to formulate ideas.
Landy's interest in drawing began as a child, often spending hours drawing patterns and meticulous arabesques from wallpapers. Similar obsessive renderings of detail have formulated series such as Nourishment (2002), a series of botanical drawings of weeds and H2NY which is a tribute of Jean Tinguely's failed self-destructing machine Homage to New York (1960). Drawing has been foundational to Landy's large-scale series such as Breaking News (2015) and Michael Landy: Saints Alive at The National Gallery (2013), while more intimate series have seen him produce 80 detailed portraits of his friends and family.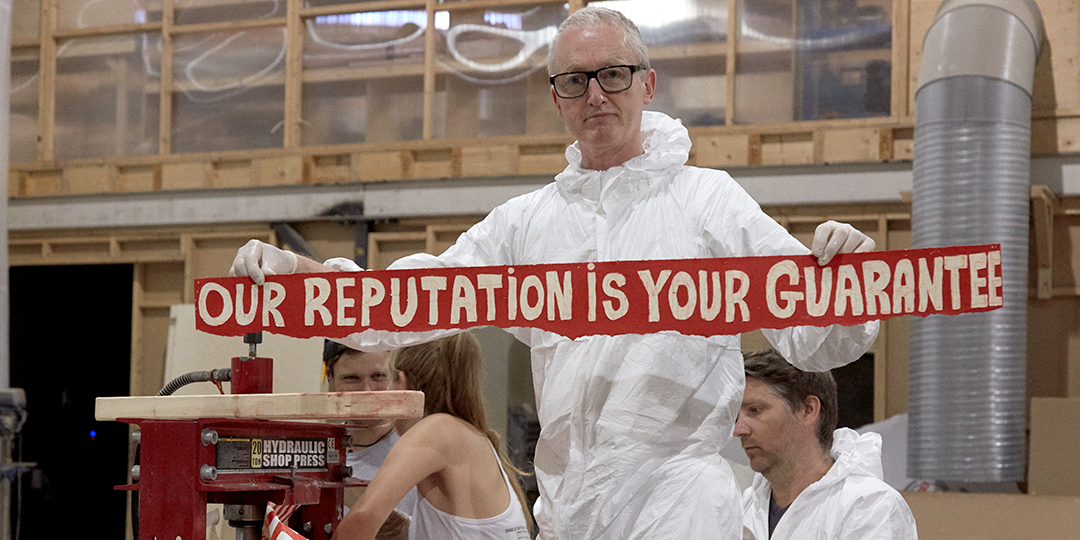 Michael Landy making the 2018 works for 'Scaled-Down' credit Ben Westoby
More about Michael Landy
Michael Landy was born in London, England, in 1963, where he lives and works. Selected solo and group shows include: Scaled-Down, Thomas Dane Gallery, London, England (2018); Open for Business at the first Riga International Biennial of Contemporary Art, Riga, Latvia (2018); DEMONSTRATION, The Power Plant, Toronto, Canada (2017-18); Breaking News, Sperone Westwater, New York NY (2017); Breaking News – Athens, Neon/Diplarios School, Athens, Greece (2017); Out of Order, Museum Tinguely, Basel, Switzerland (2016); Michael Landy: Saints Alive, National Gallery, London, England (2013); Michael Landy: Four Walls, Whitworth Art Gallery, Manchester, England (2013); Art World Portraits, National Portrait Gallery, London, England (2011); Art Bin, South London Gallery, London, England (2010). He was appointed Eranda Professor of Drawing at the Royal Academy Schools in 2014. Selected public collections include: Tate Collection, London, England; the Arts Council England; Centre Pompidou, Paris, France; Museum of Modern Art, New York NY; Art Gallery of New South Wales, Sydney, Australia; Royal Academy, London, England; Walker Art Center, Minneapolis MN. Landy was elected as a Royal Academician in May 2008. More about Michael Landy.
Banner image: Michael Landy, Fat Hen 1 (Nourishment series), 2002, photo by Richard Thomas & Prudence Cumming Associates LTD ©Michael Landy, courtesy the artist and Thomas Dane Gallery