Chatsworth has always been a centre for creativity, with successive generations of the Devonshire family commissioning art and design contemporary to their times. 'Mirror Mirror: Reflections on Design at Chatsworth', which will be on display in the house and garden from 18 March to 1 October 2023, reflects on that history and introduces new works to the house and garden, continuing this legacy into the present day. 
Co-curated with writer, historian and curator, Glenn Adamson, the exhibition places contemporary works in direct relationship to the historic design at Chatsworth, creating unexpected connections with the house's architecture, interiors, furniture, ceramics, as well as its essential materials of glass, stone, wood, and light.
The sixteen international artists and designers featured in the exhibition are Ini Archibong, Michael Anastassiades, Wendell Castle, Andile Dyalvane, Ndidi Ekubia, Najla El Zein, Formafantasma, Joris Laarman, Max Lamb,  Fernando Laposse, Jay Sae Jung Oh, Samuel Ross, Chris Schanck, Ettore Sottsass, Faye Toogood, and Joseph Walsh.
Alex Hodby, Senior Curator of Programme at Chatsworth, said: "This project is a fantastic opportunity to reflect on the design histories at Chatsworth and bring them to the fore with an exciting array of international artists and designers. We're fascinated with how the contemporary works in our exhibition have used materials in innovative ways to make functional and intriguing objects that are also deeply connected to the house, garden, and collections here at Chatsworth – a place where design has been a key feature for 500 years."
Jane Marriott, Director of Chatsworth House Trust, said: "We have invited 16 world-renowned artists and designers to reflect on 500 years of design and craftsmanship at Chatsworth. Their bold, inspiring, and sometimes humorous works allow us to connect with the many stories at Chatsworth and to also reflect on the urgent issues of our time from our use of materials, sustainability, and the climate crisis. As a charity, we are very proud to continue to commission and support artists and by doing so we make Chatsworth's history come alive while looking forward to the future."
Lord Burlington, Chairman of the Chatsworth House Trust said: "We are thrilled to bring Mirror Mirror and these 16 remarkable designers to Chatsworth, to continue the tradition of placing new objects and ideas in direct conversation with creative choices from generations past. With this exhibition, as well as a significantly enhanced programme of talks, tours, and workshops, the aim is to ensure Chatsworth upholds its role as a gathering place and a resource for artists, thinkers, makers, and learners. We look forward to welcoming them all in 2023."
'Mirror Mirror: Reflections on Design at Chatsworth' is delivered in partnership with Friedman Benda gallery and with the support of Salon 94 Design and Adrian Sassoon galleries. 
About 'Mirror Mirror: Reflections on Design at Chatsworth'
US-born, Swiss-based designer Ini Archibong's chandelier 'Dark Vernus I' (main picture) hangs in the Vestibule, a small space with a complex function. Allowing passage between the Great Dining Room and Sculpture Gallery, the Vestibule also houses a musicians' gallery, which Archibong has brought back to life with his own custom-composed sound piece.
Michael Anastassiades is a Cypriot-born, London-based designer, known for his lithe yet commanding lighting structures. His installation of light in the Library illuminates the room in depth, with fixtures made with slender uprights of bamboo and exposed bulbs set into bases of pooled metal.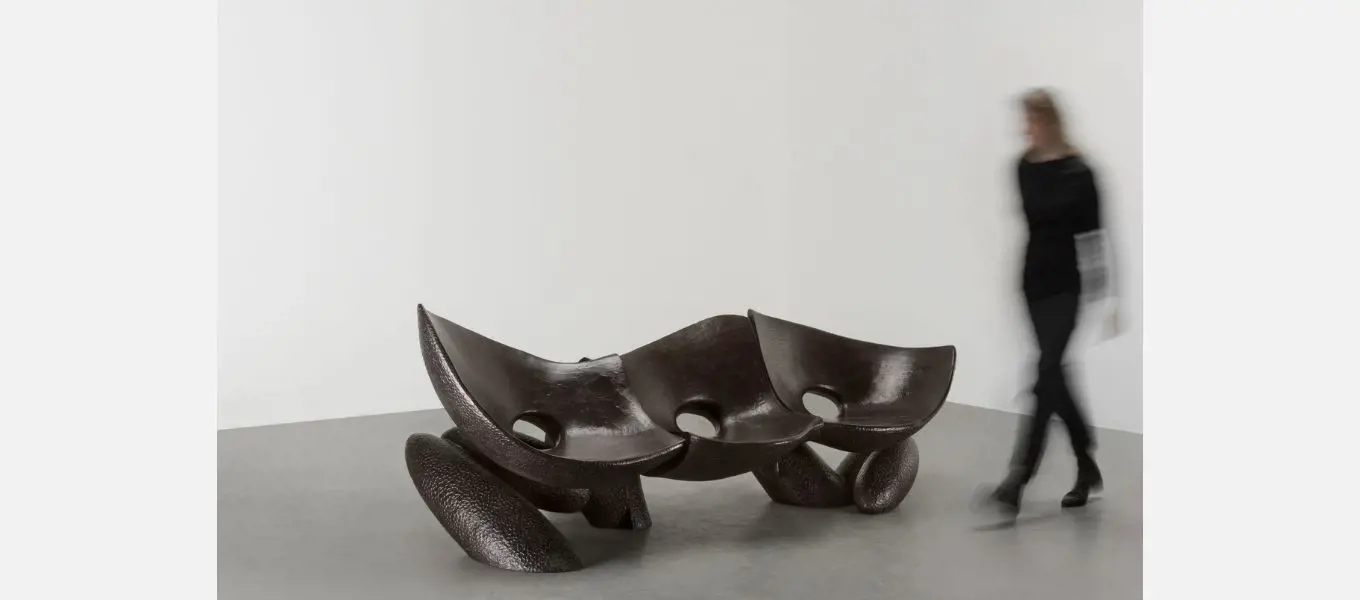 Wendell Castle (1932 – 2018) was an American sculptor, furniture artist and leading figure in American craft. His bronze seats echo the forms of the yew trees surrounding the historic Ring Pond, providing welcome spaces to sit while also entering into a dialogue with the herms and stone stools, originally designed by William Kent for the garden at Chiswick – a connection across time to the origins of design as we understand it today.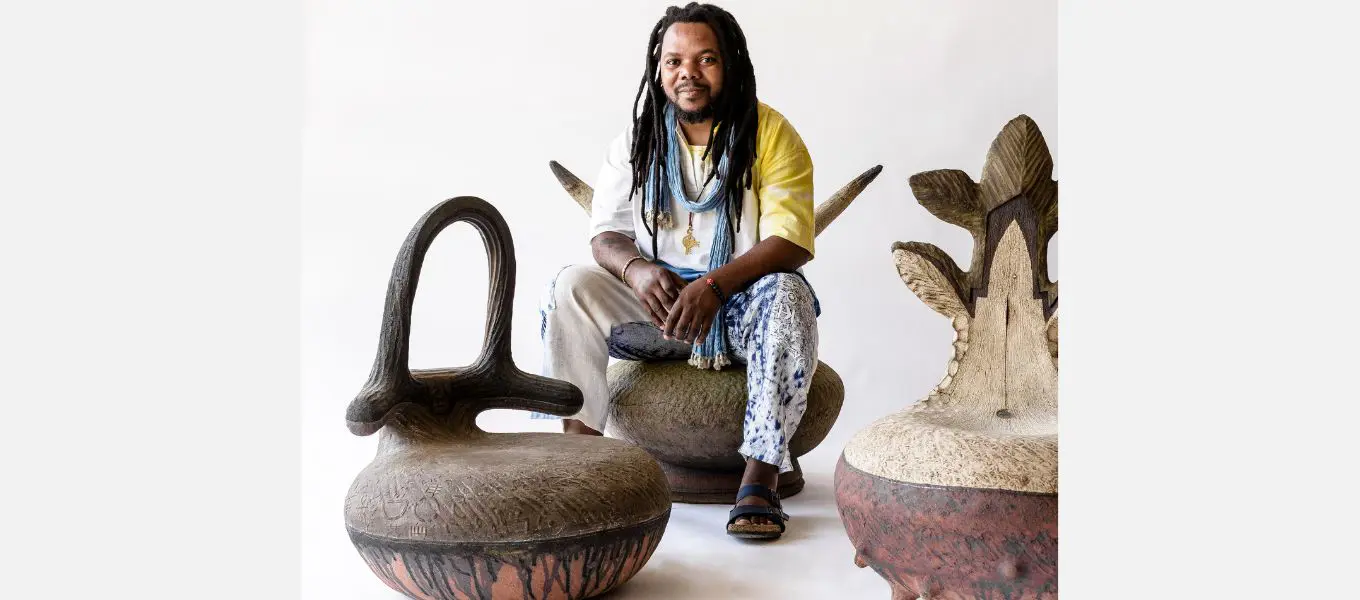 Widely considered one of South Africa's foremost ceramic artists, Andile Dyalvane's work is an acknowledgement and celebration of his ancestral past, his heritage and community. At Chatsworth, the transformative nature of clay to ceramic is celebrated in works on display in the Chapel Corridor that are resonant with symbolism of fire, water and earth. They take their place in the rich history of ceramic collecting and commissioning over hundreds of years at Chatsworth – from historic Delftware to Edmund de Waal's site-specific work 'a sounding line'.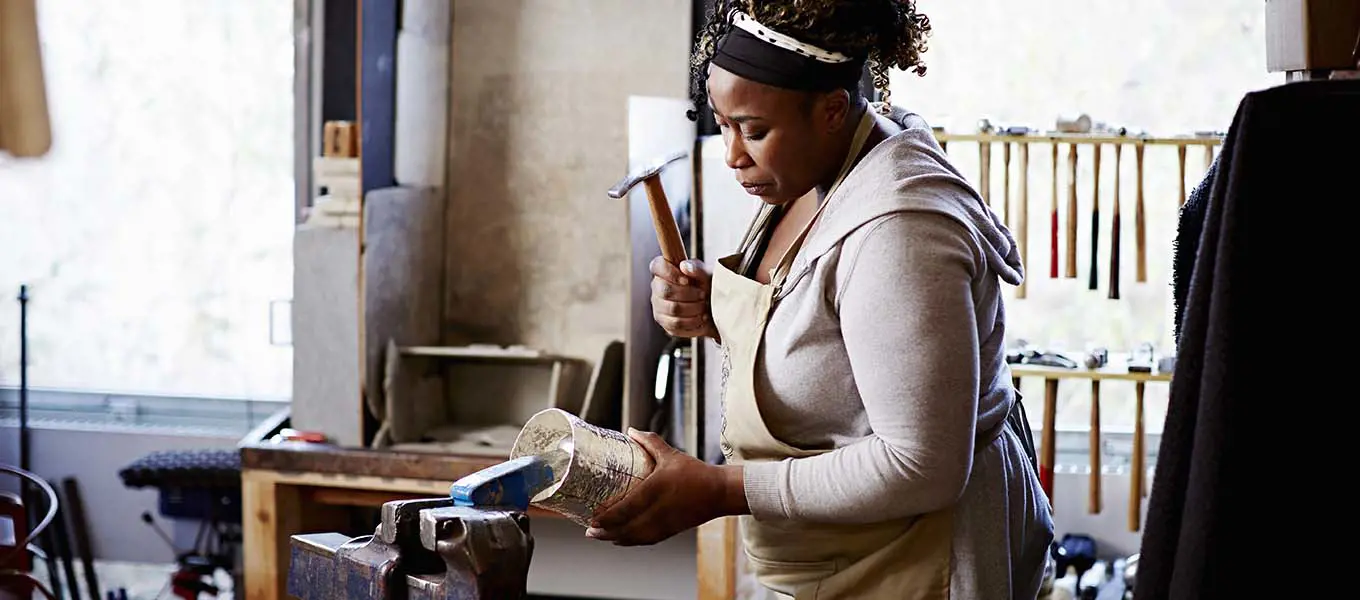 British artist Ndidi Ekubia creates visually stimulating yet functional silverware that pushes the craft of metal-raising to its limits. Her delicate series of silver vessels for the State Closet at Chatsworth are in dialogue with the monumental silver chandelier that dominates this intimate space, and more broadly, to the history of baroque ornamentation, in which material is given life through consummate craftsmanship.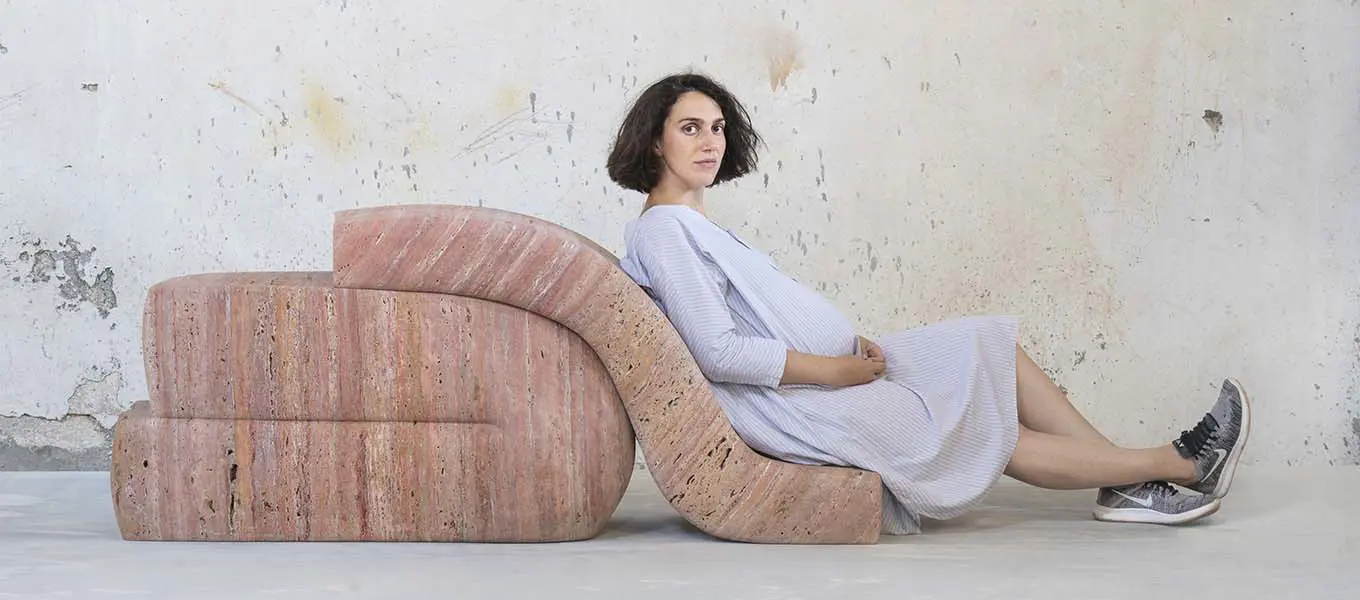 Beirut-born Amsterdam-based designer Najla El Zein's work explores the psychological potential of abstract form. The formality of the Rose Garden – its geometric planting and arrangement of columns and sculpture – provides an intriguing setting for El Zein's 'Seduction Pair 06', a seating sculpture hand-carved in Iranian red travertine that conveys the sense of two bodies conjoined.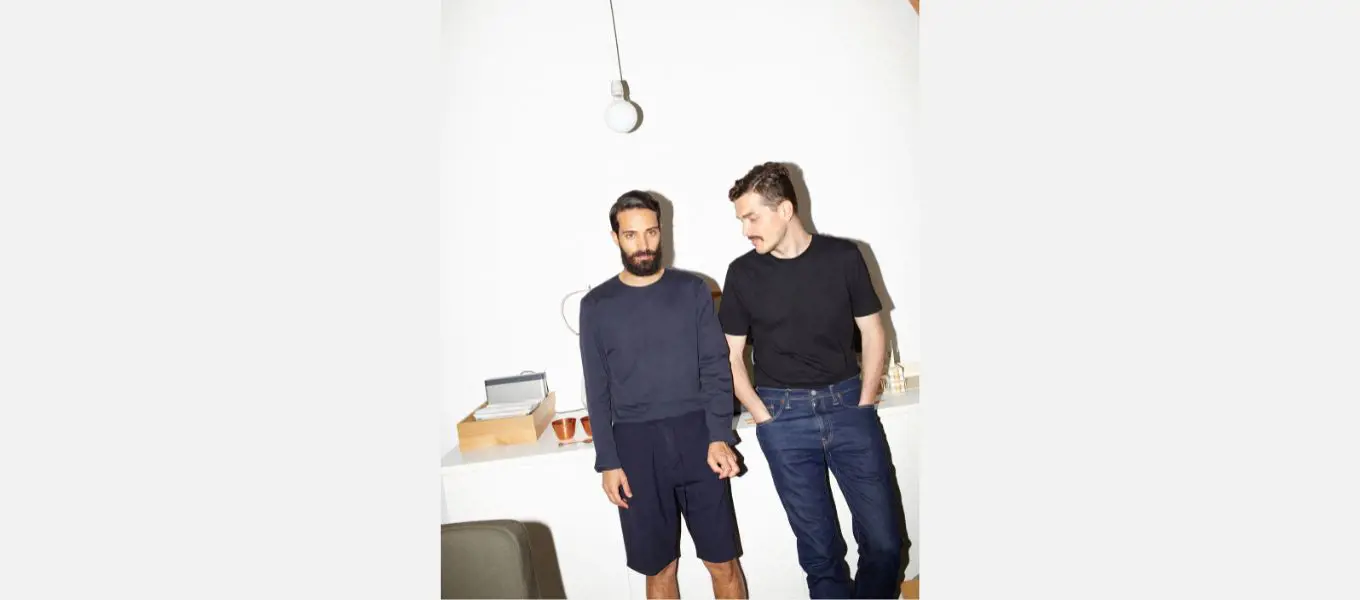 Italian design studio Formafantasma's 'Charcoal series' draws on the tension between the dystopian connotation of charcoal – its connections to pollution and destruction – while also acknowledging its positive potential, in contexts like healthcare and water purification. Works from this series will be displayed in the Green Satin Room alongside paintings that feature the Chatsworth Estate, drawing parallels across moments in the landscape, and the materials and tools that can be wrought from it.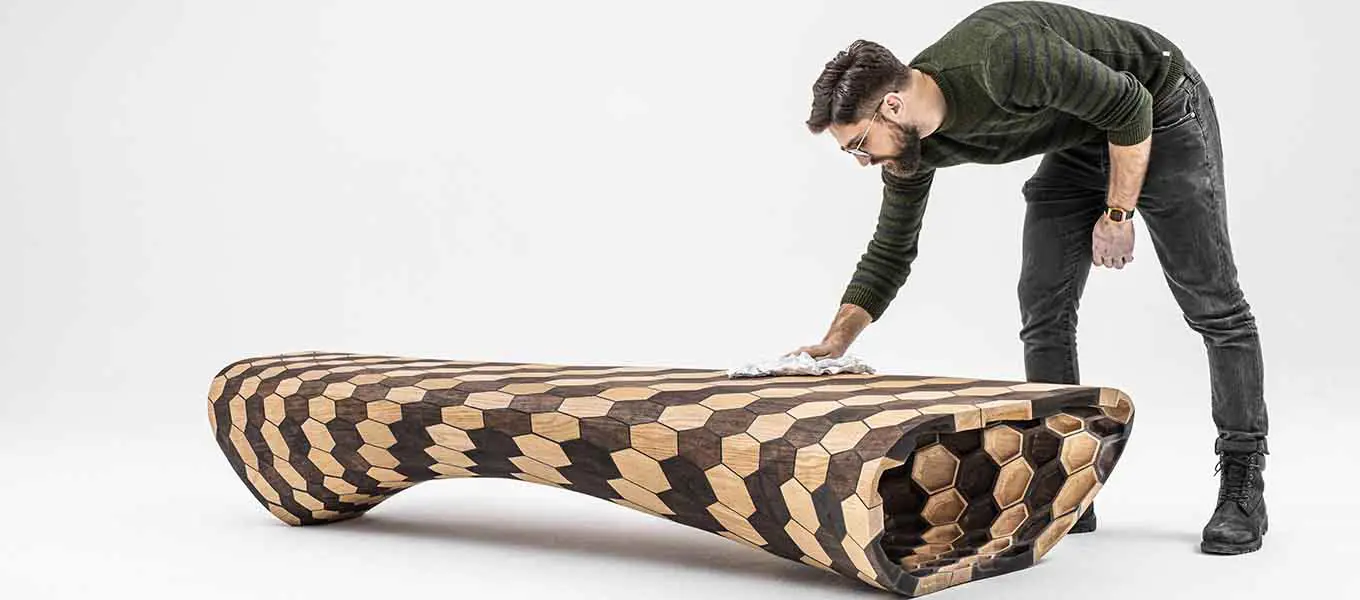 Dutch design studio Joris Laarman Lab works at the intersection of the digital and the physical world, connecting the magical possibilities of the future to indispensable elements of the past. The new Symbio Benches for the Salisbury Lawn in the garden are made from local gritstone quarried from Chatsworth Estate, the exact stone from which the house is made. The organic 'Turing patterns' carved in geometric shaped blocks allow local biology to merge with the objects forming a symbiotic work between culture and nature. In the Painted Hall, two of Laarman's Maker Benches greet the visitors, fusing digital fabrication and craft.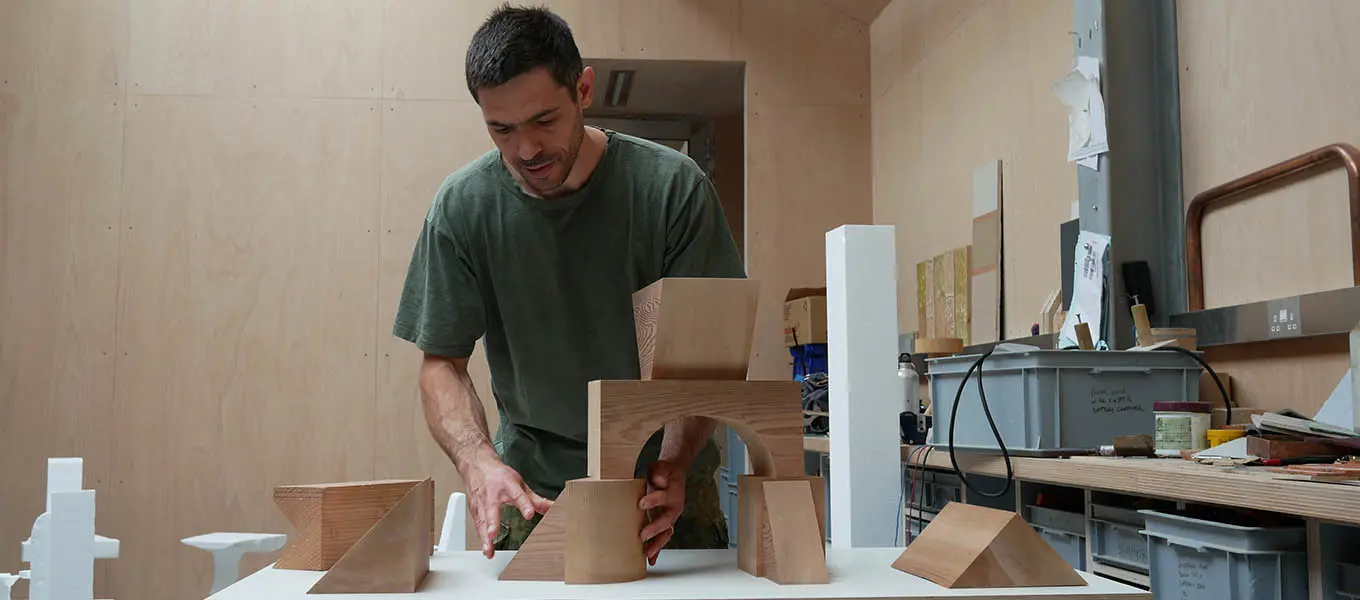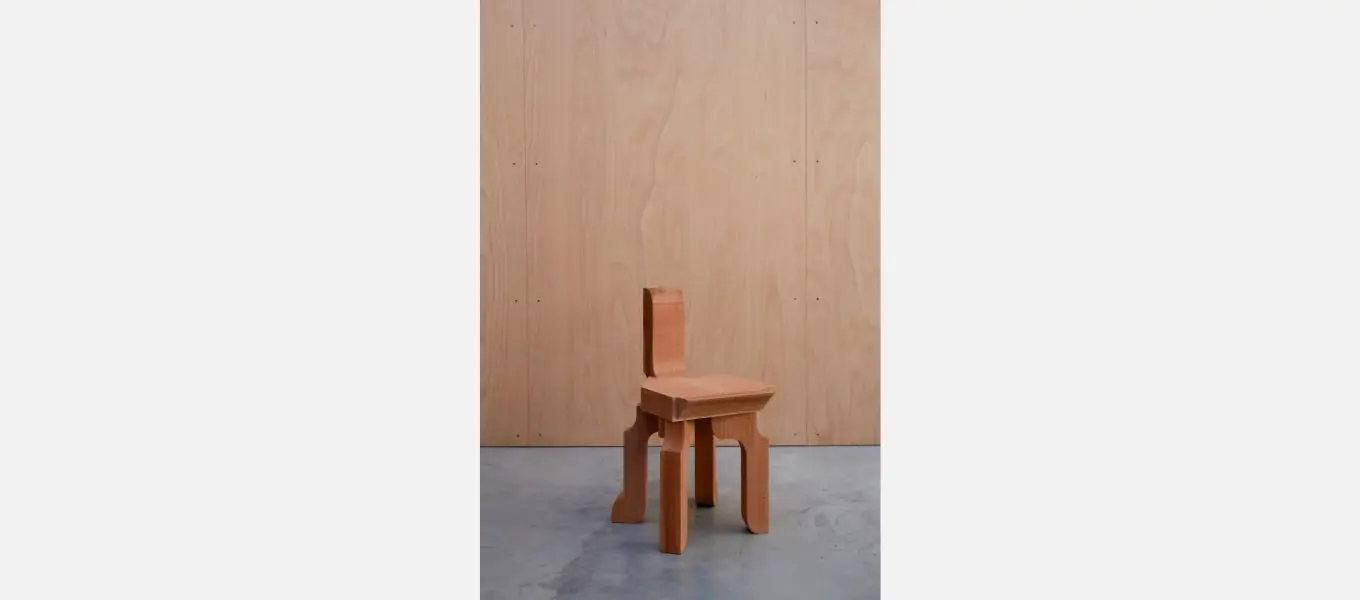 Images: 1. Max Lamb in his studio, 2. 6x8 Chair (Western Red Cedar), 2021. Images courtesy of the artist and Salon 94 Design. © Max Lamb
British designer Max Lamb is deeply concerned with the transformation of materials and is known for creating beautifully crafted pieces that have traditional processes at their core. His new work for the State Drawing Room is driven by research into the carving in the room, the stone used for the building, architectural details, and the strong connections between them.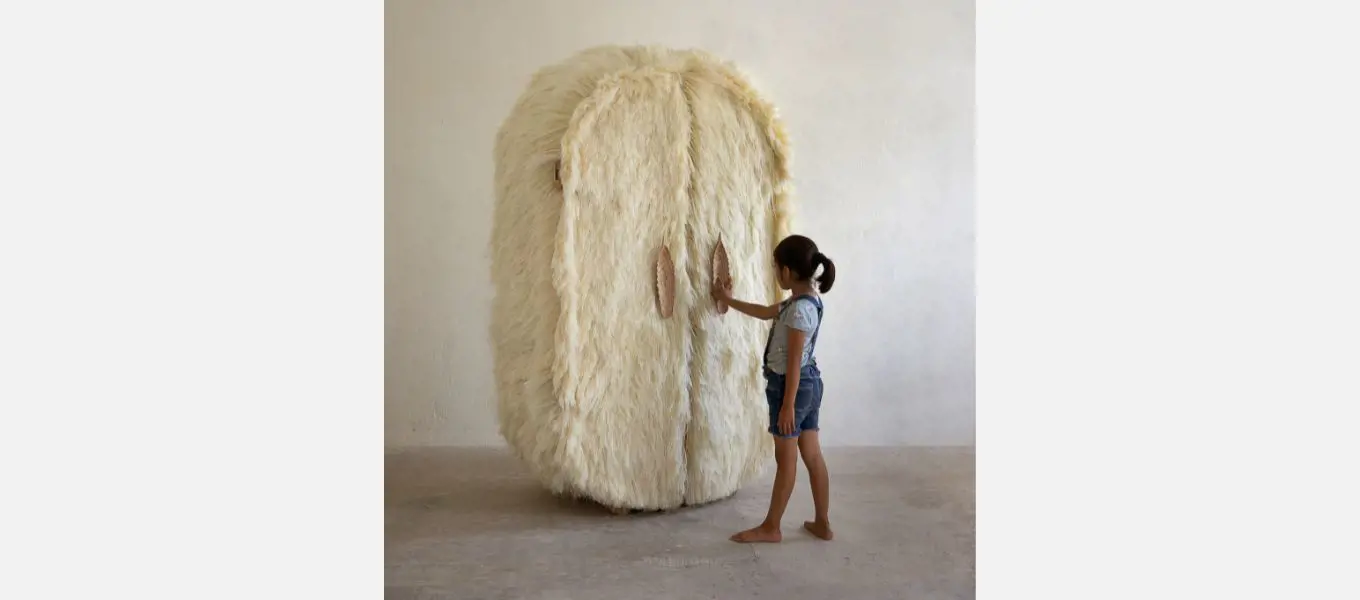 Fernando Laposse, who divides his time between London and Mexico, specialises in transforming humble natural materials into refined design pieces, working with overlooked plant fibres such as sisal, loofah, and corn leaves. His cabinet and armchair with long fibres of agave and sisal, presented in the State Bedchamber, bring powerful animacy to the opulent surroundings, creating a presence almost like that of living creatures. The work directly references local people and cultures from which these materials originate and draws attention to the cultural, social, and political mechanisms that underpin material economies.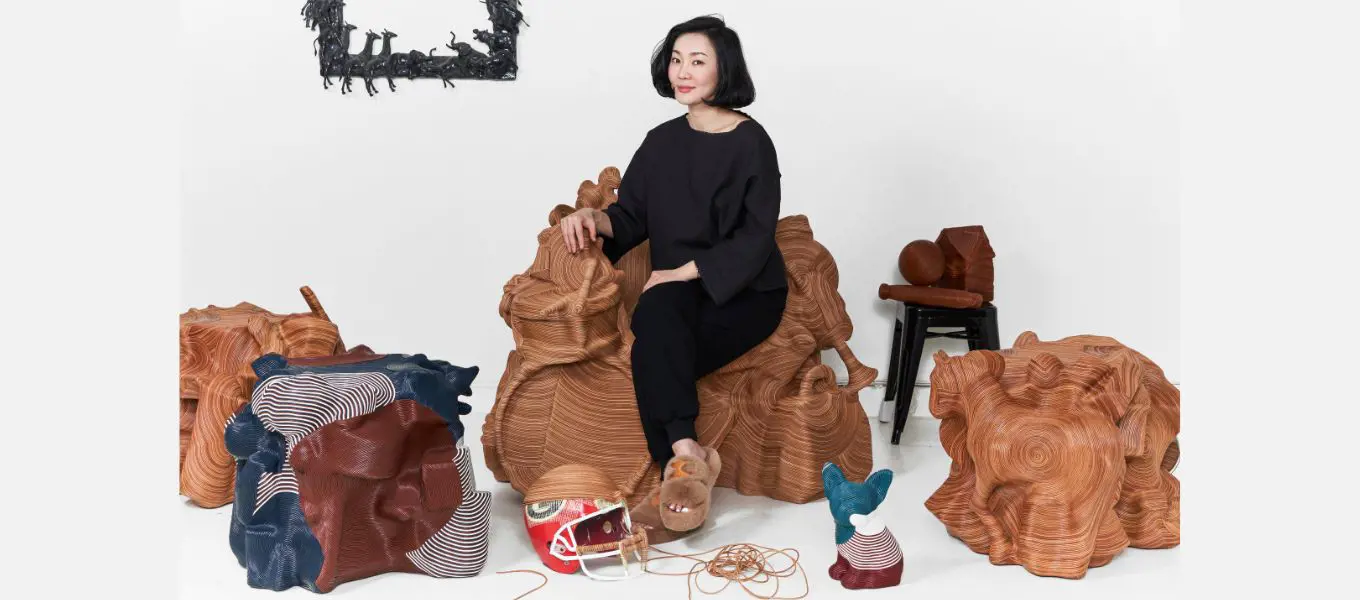 Jay Sae Jung Oh is a Seattle-based designer from South Korea, who explores the intersection of art and design with distinctive and intricately made objects. For Chatsworth's State Music Room, she creates a new work within her long-running series of furniture made by wrapping found objects with leather cord, here placing broken musical instruments at the object's core.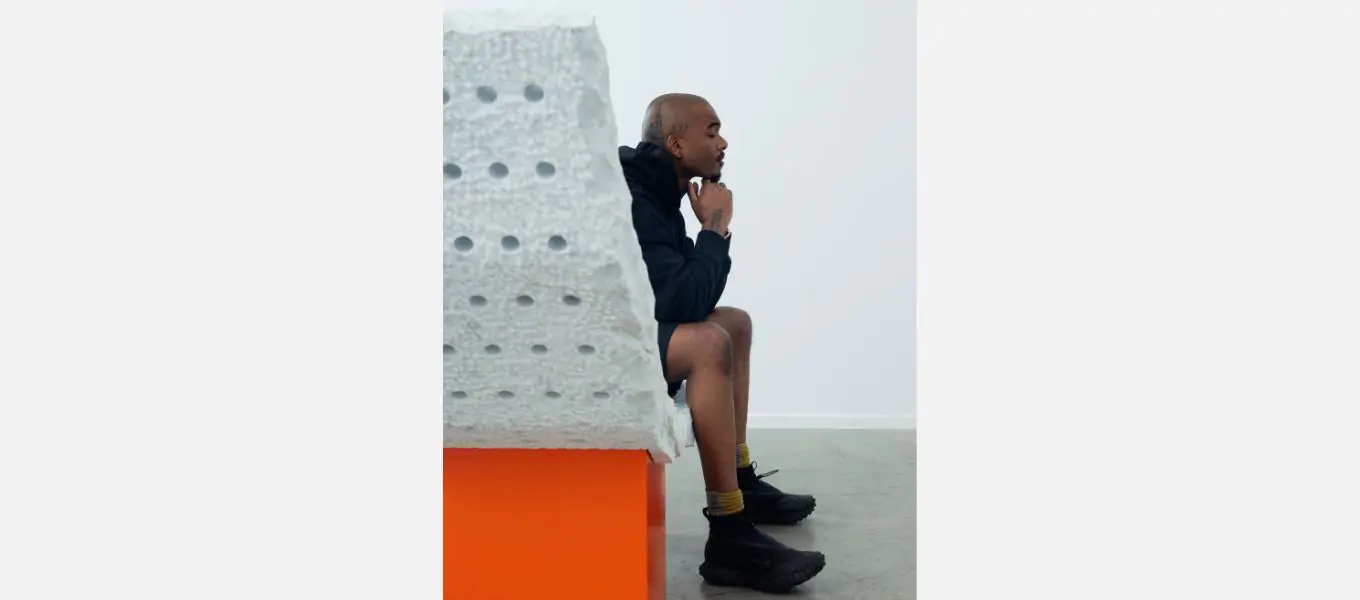 The purpose-built 19th-century Sculpture Gallery at Chatsworth contains two important reclining sculptures: Filippo Albacini's 'Achilles' (1825) and Antonio Canova's 'Endymion' (1819 – 22). British artist, designer and multidisciplinary creative director Samuel Ross responds to these lively-seeming but inert bodies, with works in stone and steel; their forms invite us to imagine the body that would recline on them. The raw and finished quality of the stone that Ross uses also has a strong relationship to the marble 19th-century sculptures around them.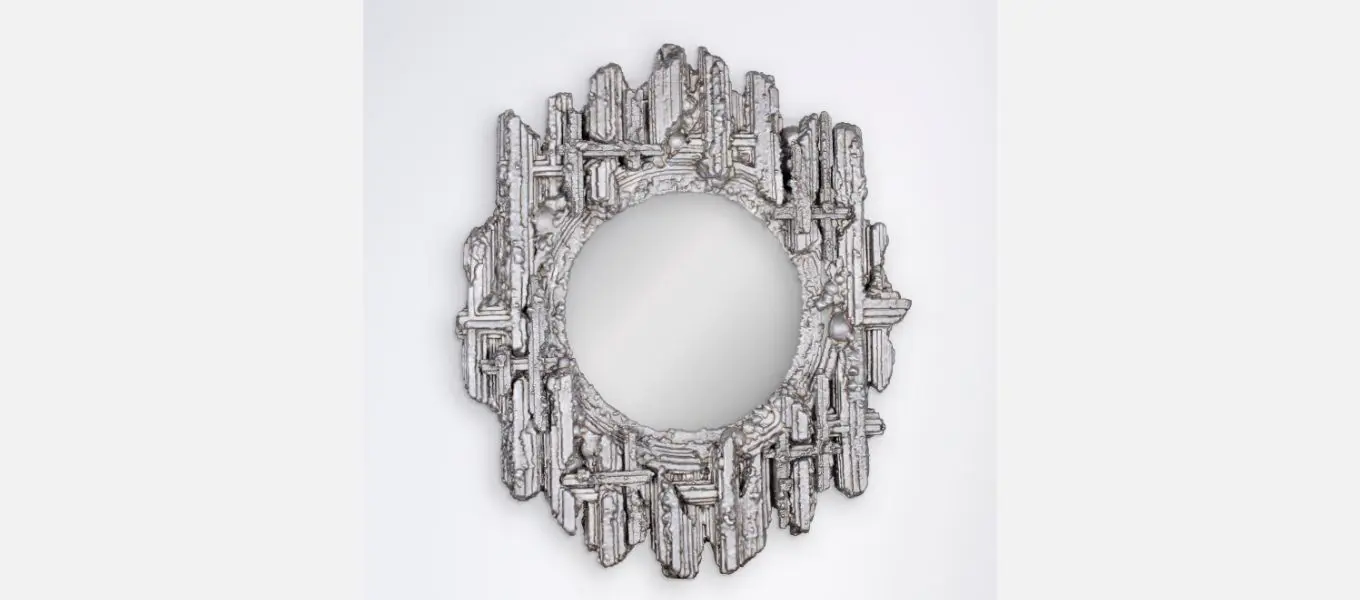 American designer Chris Schanck's seemingly calcified designs are wonders of transformation, in which upcycled scrap materials are turned into crystalline forms rendered in bright-hued resin. Two works will be installed in the Grotto, their complex surfaces in harmony with the richly carved decoration; one of these, the 'Cryo Cabinet,'  will be enhanced by mineral specimens from the Devonshire Collections.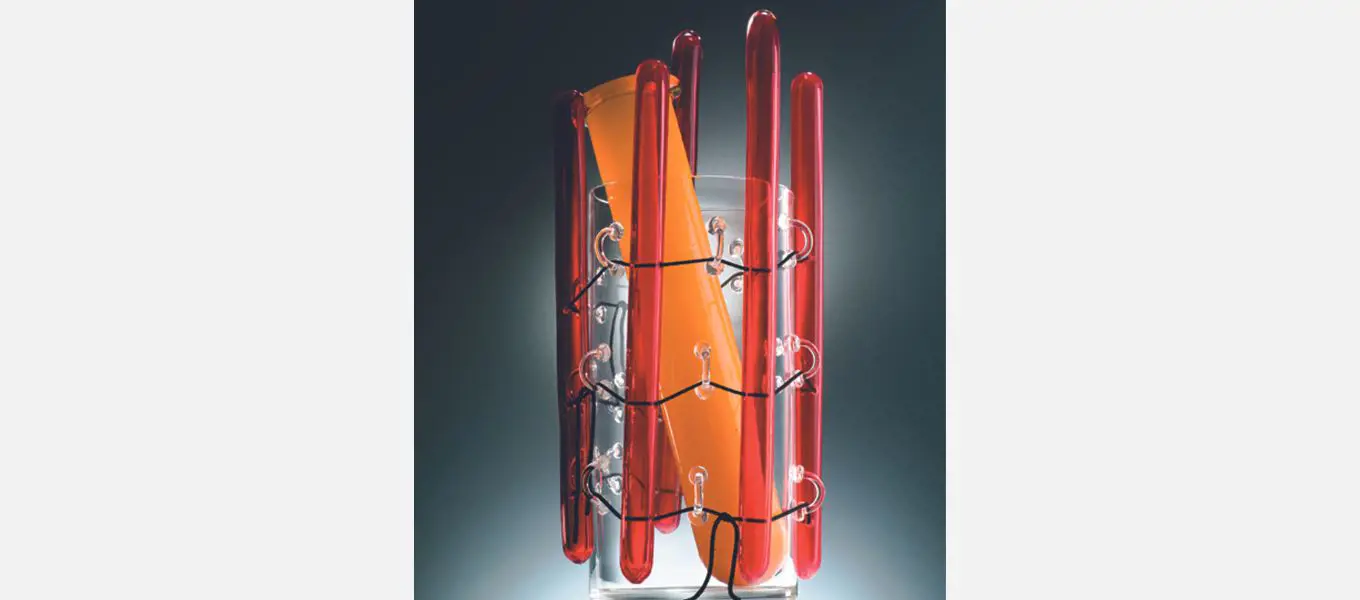 A seminal figure in 20th-century design, the Italian architect and designer Ettore Sottsass (1917–2007) created a vast body of work during his six-decade career, including works in polychromatic glass that stage a radical intervention into this quintessentially Italian craft. Displayed on historic furniture in the Great Chamber, they connect to the abundant glass in the space and exemplify the inventive approach that many contemporary designers have taken to historic crafts.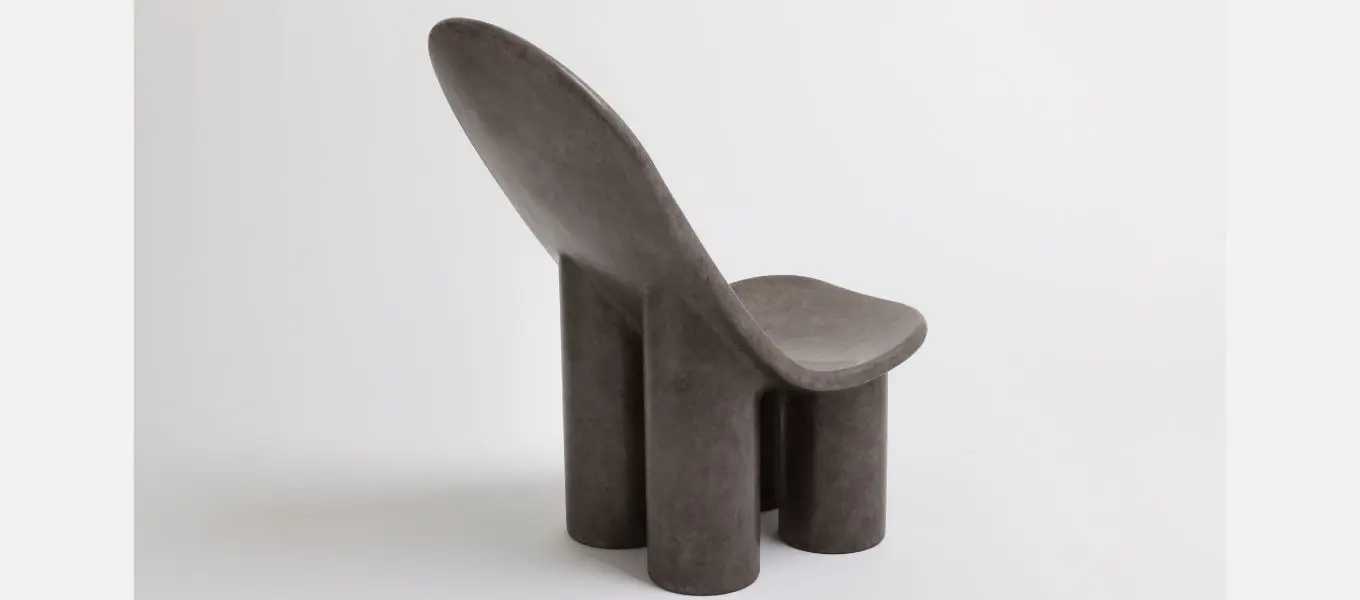 Faye Toogood is a British artist working in a diverse range of disciplines, from sculpture to furniture and fashion. Her installation of sculptural furniture for the Chapel in stone and bronze is reminiscent of ecclesiastical fittings, as well as a deeper local history of stone circles around Chatsworth, known through archaeological research. For the adjoining Oak Room, decorated in panelling bought and installed by the 6th Duke of Devonshire (1790 – 1858) in the nineteenth century, Toogood has designed a suite of objects in oak and bog oak, connecting directly with both the material of the room and its use as a gathering space.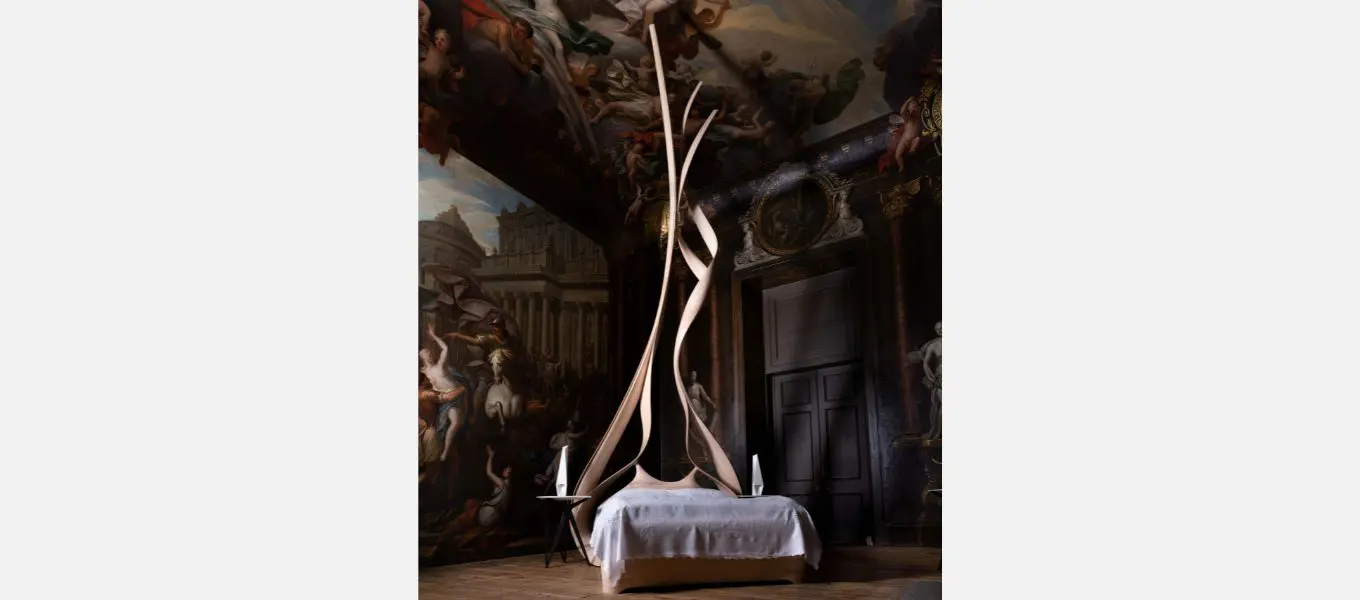 The innovative furniture of self-taught Irish furniture maker, artist, and designer Joseph Walsh is organic and sinuous. The pieces on display at Chatsworth in the West and South Sketch Galleries are largely made using steam-bent wood, including gravity-defying wall brackets – sculptures that also serve as supports for other objects, echoing the functional furniture used to display collected material throughout the galleries – and the 'Enignum Bed', a soaring design echoing the composition of the surrounding wall and ceiling paintings by James Thornhill (1675/6 – 1734).
'Mirror Mirror: Reflections on Design at Chatsworth' is delivered in partnership with Friedman Benda gallery, and with the support of Salon 94 Design and Adrian Sassoon galleries.
Main image: Ini Archibong and Dark Vernus, courtesy of Friedman Benda and Ini Archibong, photography by Daniel Kukla
This release was first published in December 2022 and updated in March 2023.