William Cavendish, 1st Earl of Devonshire (1552–1626)
William was the second, and favourite, son of Bess of Hardwick, and became her heir. On her death in 1608, he inherited a vast fortune and several important properties. Although Chatsworth was inherited by her eldest son Henry, its contents were left to William, who bought out his brother's interest in the house itself in 1609. 
He managed his estates carefully, purchased more land, and also invested in various overseas trading companies, such as the Virginia and Bermuda companies. He held positions as MP for Liverpool and Newport, High Sheriff of Derbyshire, and Justice of the Peace. In 1605, he was created Baron Cavendish of Hardwick, and in 1618 became Earl of Devonshire.
In 1581, William married Anne Keighley, daughter and co-heir of Henry Keighley, and together they had three sons and one daughter. After Anne's death he had one further son with his second wife, Elizabeth, daughter and heir of Edward Boughton and widow of Sir Richard Wortley. He died on 3 March 1626, and was buried at Edensor. 
William Cavendish, 2nd Earl of Devonshire (1590–1628)
The 2nd Earl of Devonshire was the son of the 1st Earl. He was educated by Thomas Hobbes, the philosopher, who lived at Chatsworth as his private tutor for many years. Hobbes accompanied him across Europe on the Grand Tour from 1610. A leading member of court society, the 2nd Earl was also a close friend of King James I, and held positions as M.P. and Lord Lieutenant of Derbyshire.
In 1608 the 2nd Earl married Christian Bruce, daughter of Edward Bruce, 1st Lord Kinloss, and they had three children. He died in 1628 following what was described as "excessive indulgence in good living", and left behind a trail of debts and lawsuits. His son and heir, again called William, was aged just eleven, and as a result the widowed Christian obtained full legal guardianship of her son and set about resolving the financial and legal difficulties left behind by her husband.
William Cavendish, 3rd Earl of Devonshire (1617–1684)
Both the 3rd Earl of Devonshire and his mother, Christian Bruce, were staunch Royalists when the Civil War began in 1641, and the family dedicated large amounts of money to raising regiments for Charles I. Colonel Charles Cavendish, the 3rd Earl's younger brother, was celebrated for his bravery, but was killed on the battlefield in 1643. The 3rd Earl himself, mindful of his duty to protect his family name, departed for the safety of the continent and did not return until after the war was over.
Chatsworth was occupied by both sides during the Civil War, and the 3rd Earl did not return to the house until peace was restored with the Restoration of the monarchy. Although he reconstructed the principal rooms in an attempt to make them more comfortable, the old Elizabethan house was becoming increasingly out-dated and unsafe.
The 3rd Earl of Devonshire married Lady Elizabeth Cecil, daughter of William Cecil, 2nd Earl of Salisbury, on 4th March 1639. Together they had two children.
William Cavendish, 4th Earl and 1st Duke of Devonshire (1641–1707)
The 4th Earl of Devonshire did not inherit his title until he was 43, and by this time he had built a reputation of some notoriety. He was described by Horace Walpole as 'a patriot among the men, a gallant among the ladies', yet 'prone to take offence, ready with his sword as with his tongue, plaintiff and defendant in many lawsuits'. He married Lady Mary Butler (1646-1710), daughter of James Butler, 1st Duke of Ormonde, in 1662 and they had four children together.
A strong supporter of the 'Glorious Revolution' of 1688, the 4th Earl was one of the 'Immortal Seven', a group of English noblemen who signed the invitation to William of Orange and his wife Mary to accept the throne in the place of Mary's father, James II. He was a leading member of the Whig party, serving as Lord Steward for the new king, and in 1694 he was created the Duke of Devonshire and the Marquess of Hartington in recognition for his services.
By the 1680s Chatsworth had fallen into a poor state of repair, and the 4th Earl began some much-needed work on the old house. Initially the intention was only to alter the South Front, which was taken down in 1686 and replaced with new family rooms and a magnificent State Apartment. However, he found building so enjoyable that the East Front was soon after also rebuilt, including the Painted Hall and a long gallery (now the Library), followed by the West Front and finally the North Front. William Talman (1650-1719) was the architect for the South and East Fronts. The West was perhaps designed by the Duke himself, working closely with his masons, and the North, with its bow front, by Thomas Archer. The new Chatsworth was finished just before the Duke died in 1707.
Return to History of Chatsworth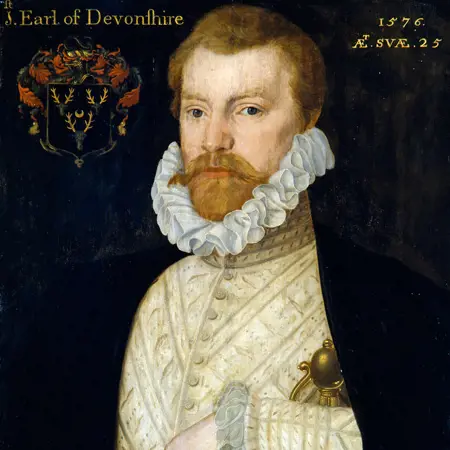 Portrait of William Cavendish, 1st Earl of Devonshire (1552–1626)
British (English) School
Oil on panel, 1576
In the collection at Hardwick Hall, National Trust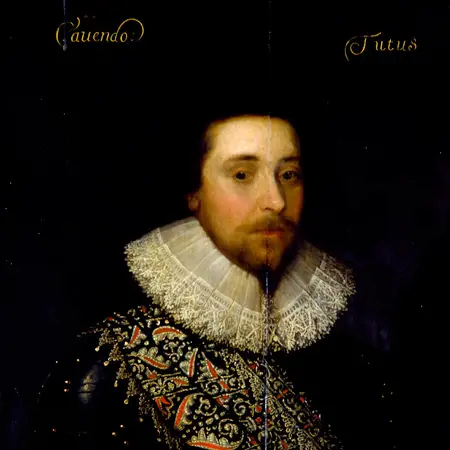 Portrait of William Cavendish, 2nd Earl of Devonshire (1590–1628)
British (English) School
Oil on panel, 1625–1626
In the collection at Hardwick Hall, National Trust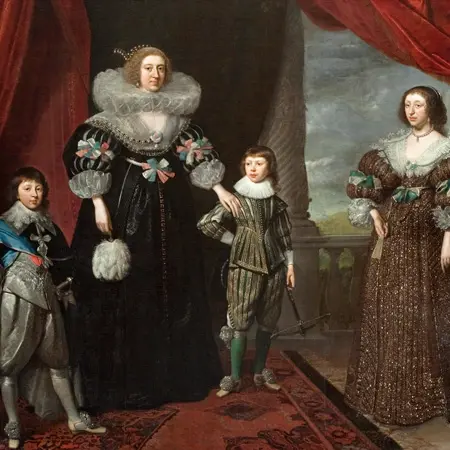 Portrait of Christian Bruce, Countess of Devonshire, with her sons and daughter
Daniel Mytens (c.1590–c.1647)
Oil on canvas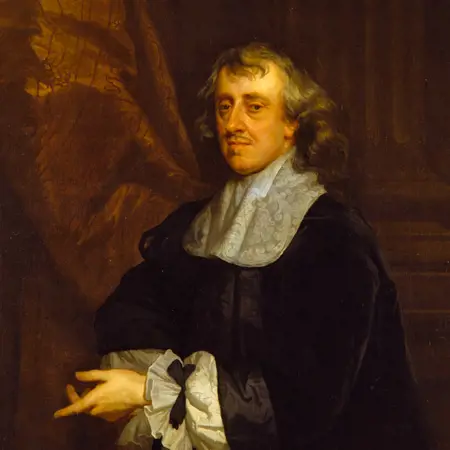 Portrait of William Cavendish, 3rd Earl of Devonshire (1617–1684)
Sir Peter Lely (1618-1680)
Oil on canvas, c.1660s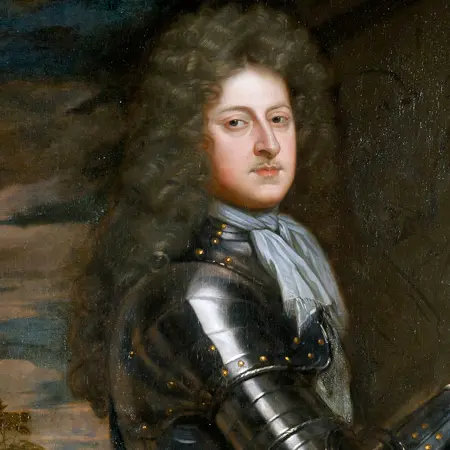 Portrait of William Cavendish, 1st Duke of Devonshire (1640–1707)
Studio of Sir Godfrey Kneller (1646–1723)
Oil on canvas, 1680s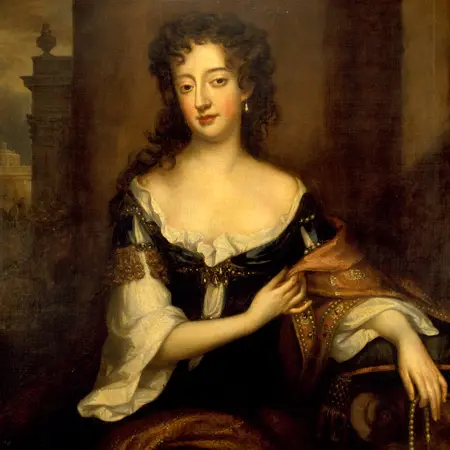 Portrait of Mary Butler, Duchess of Devonshire (1646–1710)
William Wissing (1656–1687)
Oil on canvas, 1680–1685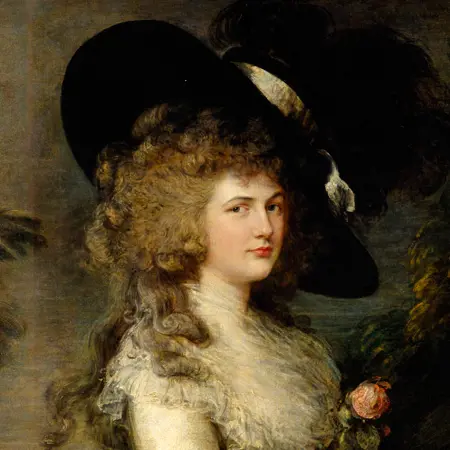 18th century
In the 18th century, Lancelot 'Capability' Brown landscaped the estate and the 5th Duke married Lady Georgiana Spencer.