Sir Joseph Paxton (3 August 1803 – 8 June 1865) was a visionary, described in his obituary in The Times as 'the greatest gardener of his time, the founder of a new style of architecture, and a man of genius'. Born into a humble farming family in Bedfordshire, Paxton was the archetypal self-made Victorian, whose inquisitive nature and industrious energy propelled him to the forefront of a portfolio of fields – architecture, engineering, horticulture, and landscape design.
The Chatsworth Garden and Estate are intrinsic to Paxton's story. When he arrived in 1826 Paxton was only 23; the garden was in some disrepair and the 6th Duke of Devonshire had little interest in gardening. By the time he retired as Head Gardener in 1858, Paxton had left an indelible mark upon the landscape and Chatsworth's garden was known throughout the world.
For Paxton, Chatsworth was his training ground, the Great Conservatory was the progenitor of arguably his greatest achievement in any field – the Crystal Palace; designed and built for the Great Exhibition of 1851. The Crystal Palace was roughly 25 times the size of the original; whilst the innovative use of uniform parts and mass production created an economy of scale that brought Paxton's design in at 28% of the cost of his nearest rival for the commission.
Of Paxton's horticultural successes, one outshines all others; the cultivation of the Musa Cavendishii, or the 'Cavendish Banana'. Bought for £10, the plant was cultivated by Paxton in 'plenty of water, rich loam soil and well-rotten dung'. It flowered at Chatsworth for the first time in November 1835. By May 1836 over one hundred fruits were ripening. Later re-exported via missionaries to Samoa, this plant is today the ancestor of the most commercially grown bananas worldwide. 7 billion Cavendish Bananas are eaten in the UK each year alone.
It was during Paxton's many enterprises away from Chatsworth that his wife, Sarah, came into her own. Considered one of the unsung heroes of the nineteenth-century, she took over many of the duties of Head Gardener and Land Agent in his absence; acting as his proxy in the garden, enacting his instructions sent by letter. This put a huge level of responsibility on Sarah, expecting her to direct the foremen, and instruct the men directly; she had an in-depth knowledge of plants in the garden, as well as impressive business and financial management skills.
Much of Paxton's Chatsworth was constructed under the trained eye of Sarah rather Joseph and it is without doubt that Joseph would not have achieved the feats he did without Sarah's intelligence and hard work in a Victorian world dominated by men.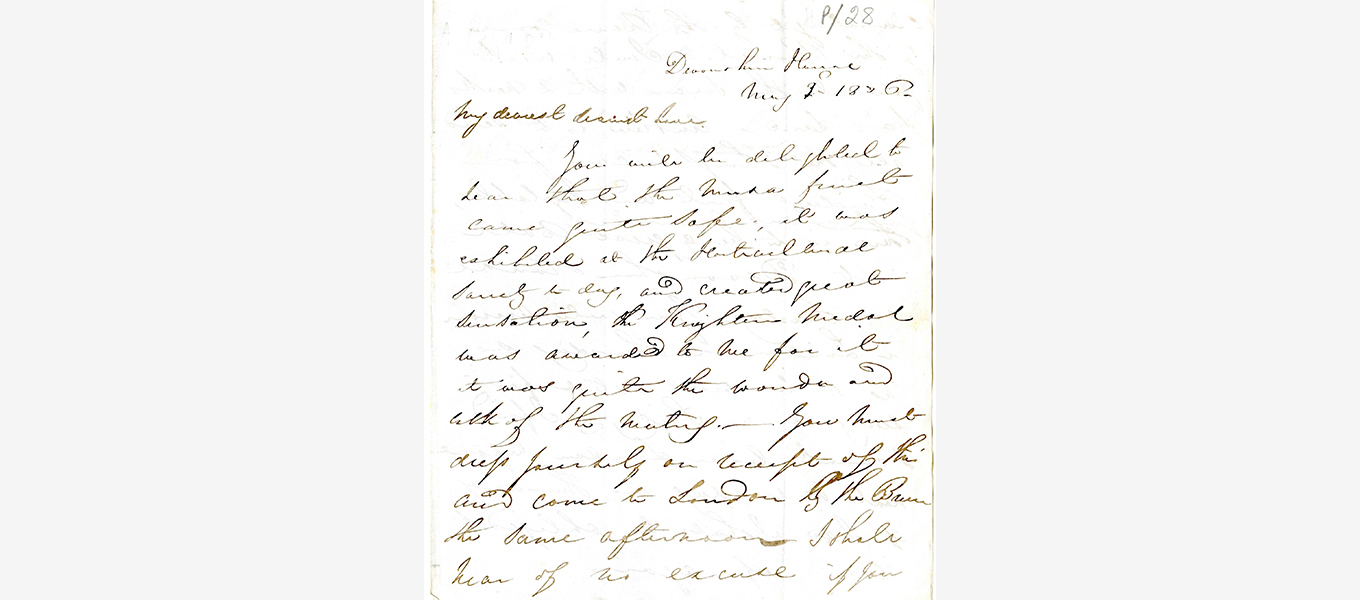 Aim History Makers Background
Thanks to a generous grant from AIM Biffa Award, in 2019 Chatsworth will explore how these two Victorian pioneers impacted the world we know today, in an exciting project which will bring these stories to our visitors. New archival research into 'The Paxton Papers' (of which there are c. 2,000 letters both from and to the pair within Chatsworth's archive) will reveal their ground-breaking enterprises in the fields of science, technology, engineering and mathematics (STEM) and will inform new interpretation to be displayed in the Chatsworth Garden from 2020.
This interpretation will include interactive opportunities in the garden to demonstrate to all visitors the sheer scale of their achievements in the garden in a time without modern, electric machinery. Our aim is also to inspire our younger visitors to think outside the box, experience these STEM subjects in a non-classroom based environment, and appreciate the impact the past has had on our present and future.
Throughout 2019 we will be conducting the research; planning, testing and designing the interpretation; and consulting our visitors to discover what kinds of interpretation they want to see in the garden. This will ensure what we deliver in 2020 is both exciting and enlightening for future visitors.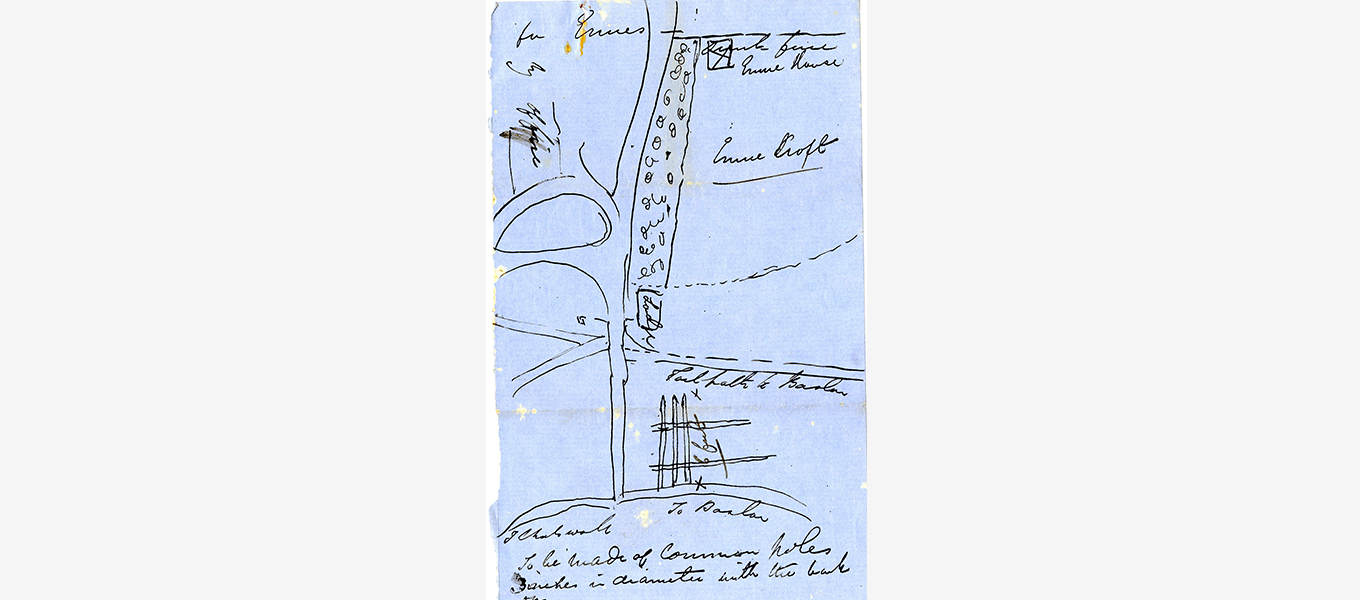 Proposed site for the interpretation
1. The Glasshouses; This will be a place to introduce Paxton's work in horticulture and engineering, positioning visitors in a location to observe Paxton's bananas and an original glasshouse used for his orchid collection, participants will be invited to observe the natural world and engage in a multi-sensory experience.
2. The Great Conservatory; the forerunner for Paxton's subsequent masterpiece, The Crystal Palace, Chatsworth's Great Conservatory was where Paxton honed his engineering and mathematical skills to create a tropical haven for his horticultural collection. Whilst demolished in 1920, this is still the heart of the garden, and the location where all young families gravitate to explore our large yew maze. Therefore we will use this location to introduce Joseph Paxton, Sarah Paxton, and the modern day gardeners at Chatsworth. This is where the primary text will be included, so we will counteract that by also offering a complimentary dynamic experience. This may include Virtual or Augmented reality, or soundscapes to recreate one of Paxton's most famous endeavours.
3. The Emperor Fountain; when it was originally designed it was the tallest gravity fed fountain in the world for 160 years, designed to impress the Emperor of Russia it required advanced engineering skills and new water sources to be developed. Here we will use hidden and embedded formats to encourage visitors to discover the interpretation for themselves to engage with this popular feature in an entirely different way.
4. The Rockery; built by Paxton as a reminder of the 6th Duke's Grand Tour of Europe this area of the garden required Paxton to invent new machinery to transport and position large rocks into aesthetic towers, the tallest of rocks measuring 14meters high. Here we will spark mathematical and logical questions and encourage our visitors to consider the scale of the endeavour and how Paxton used his ingenuity to overcome it.
5. The Pinetum; this is a place designed for reflection and quiet contemplation. The scale of the trees, scent of the pines and sounds of birds all lend themselves to a location designed to evoke an emotional response for our visitors. Through use of subtle, hidden devices we will encourage the visitors to contemplate the scale of Paxton's work, whilst coming from comparatively humble beginnings, what he achieved in his life time through hard work and persistence and what lasting effect his work has upon people today.
Whilst each location will primarily be focused upon Joseph Paxton's interventions, we will use our archive to explore the role of his wife, Sarah, and the unprecedented level of responsibility she had at Chatsworth, as well as the people who have influenced the development of the garden since. This will also include modern garden designers such as Dan Pearson and Tom Stuart-Smith who is currently working on our newest garden feature, Arcadia. Chatsworth is a living, working estate that represents 500 years of history, but is still evolving to remain ever contemporary.