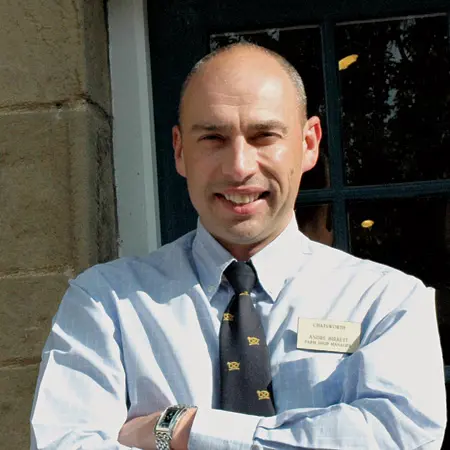 André Birkett
Head of Chatsworth Estate Farm Shop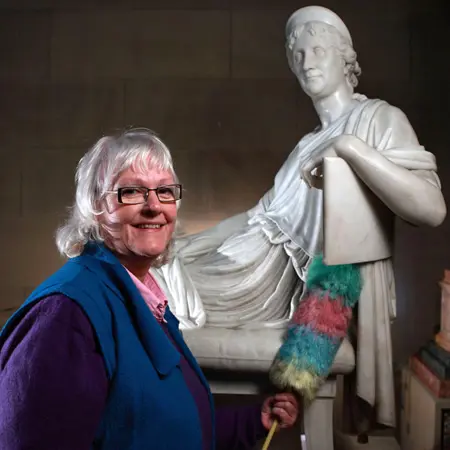 Jayne Boyd
Housekeeping Assistant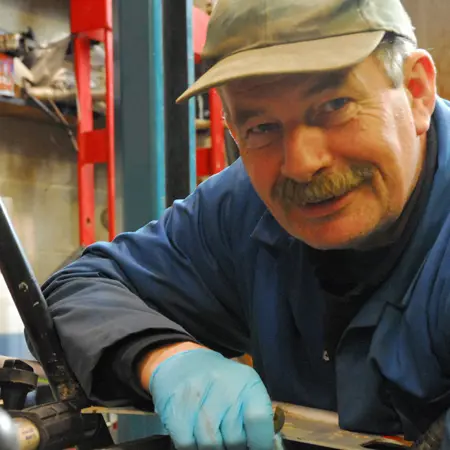 Andy Garratt
Houseman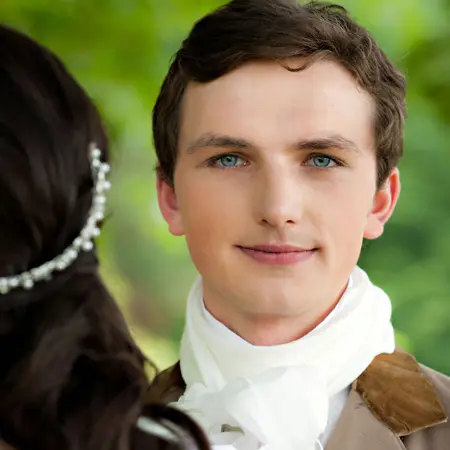 Lewis Leybourne
Trainee Supervisor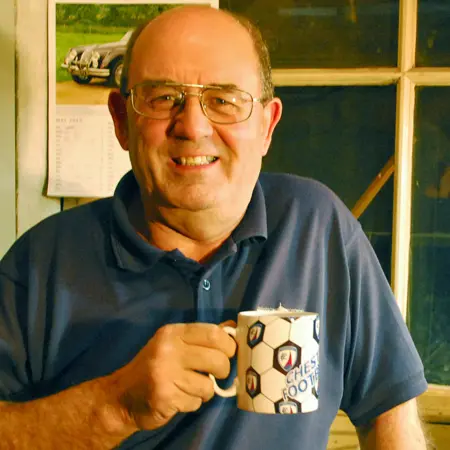 Trevor McDowell
Houseman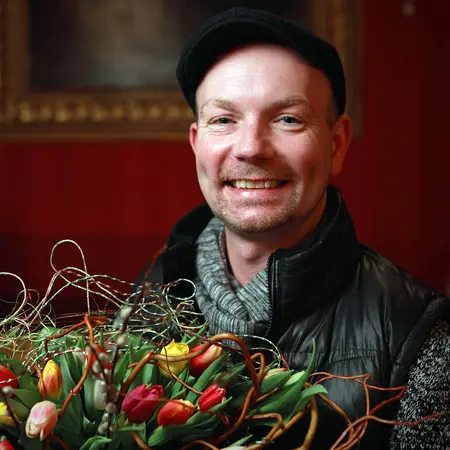 Jonathan Moseley
Freelance Floral Designer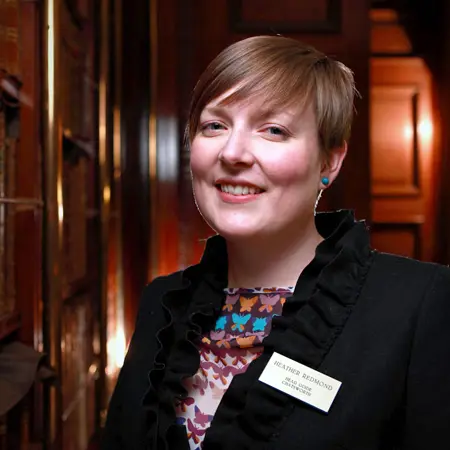 Heather Redmond
Head Guide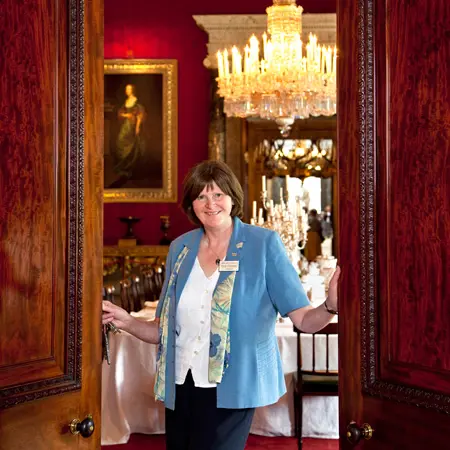 Christine Robinson
Head Housekeeper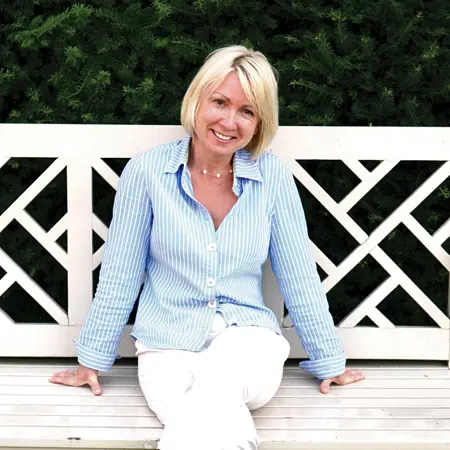 Kay Rotchford
Wedding and Events Manager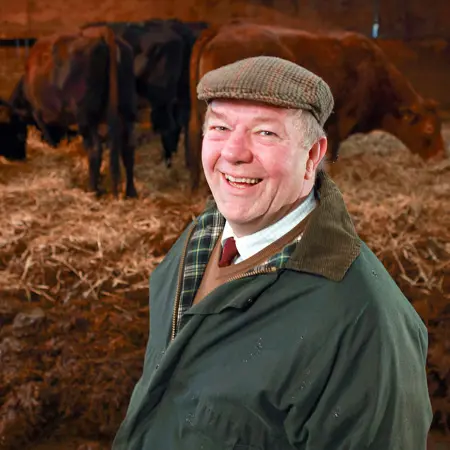 Ian Turner
Farms Manager
André Birkett, Head of Chatsworth Estate Farm Shop
André has lived and worked at Chatsworth for over 30 years. Having started his career at the Devonshire Arms Hotel, Bolton Abbey, André moved to Derbyshire to work in the private kitchen at Chatsworth, before moving to the farm shop in 1984 where he is now the manager.
André lives in the estate village of Edensor, and when he isn't working he enjoys nothing more than exploring the estate with his Golden Cocker Spaniel, Freddy.
"I wasn't fazed by the cameras and I couldn't act if I tried. Anyone who knows me will tell you that the person you see in the documentary is the real me, complete with Yorkshire accent."
Jayne Boyd, Housekeeping Assistant
Jayne moved on to the Chatsworth Estate with her family in 1986. She soon became involved with estate life, becoming a school governor and a keen member of the WI. Once her children were older, Jayne joined the team at Chatsworth, working as a member of the ticket and guiding team, as well as housekeeping.
She loves working on her allotment and caring for her bees, and also enjoys spinning and most handicrafts.
"Chatsworth is a dream place to live and work, and I feel privileged to have done both. It really is a unique community."
Andy Garratt, Houseman
Andy began work at Chatsworth as a landscape and agricultural contractor before becoming a full time member of the maintenance team in 2000.
Andy lives in Baslow with his wife Jo and a menagerie of animals, including two Hebridean sheep, Pepsi and Shirley, Clyde and Lulu, the pot bellied pigs, Boris and Tina, the micropigs, three dogs Tel, Dexy and Tess, two cats B.C. and P.C. and 24 hens. Aside from running a small holding, Andy enjoys gardening, DIY and renovating vehicles.
Lewis Leybourne, Trainee Supervisor
Originally from London, Lewis moved to Matlock in 2007 and joined Chatsworth's catering team. Before beginning his supervisor training in 2011, Lewis worked in the Carriage House restaurant and on the barbecue at weekends.
In his spare time, Lewis enjoys the outdoors, especially walking and mountain biking. Lewis is no stranger to the camera, at 15 he went on a three-week expedition to the Arctic with the BBC to discover how young people cope with adverse conditions.
"One of the highlights of my time at Chatsworth so far has to be dressing up as Mr Darcy for a wedding brochure photo shoot in clothing worn for the 1880 Devonshire House Ball from the Chatsworth archives."
Trevor McDowell, Houseman
After leaving the army in 1978, Belfast born Trevor joined Chatsworth for the summer season and never left. For his first three years at Chatsworth, Trevor worked mainly on the car park, before becoming a van driver and member of the maintenance team.
Trevor met his wife Susan at the Game Fair at Chatsworth in 1974, and lives in the village of Baslow with his wife and cat. In his spare time, Trevor enjoys watching Chesterfield FC and tormenting his grandchildren.
"Over the years I have done many and varied things, the highlight being with my colleagues entertaining Prince William to lunch in our mess room. As we all enjoyed our fish and chips out of the paper we were able to discuss the most important thing in life, football!"
Jonathan Moseley, Freelance Floral Designer
Jonathan has been working with flowers professionally for over 20 years, and has designed four flower festivals at Chatsworth and is "in residence" delivering floral workshops and demonstrations in the Theatre at Chatsworth throughout the year.
When Jonathan is not raiding the garden at Chatsworth for foliage, he spends his time tending his own garden at Coal Aston, near Dronfield, with his partner and battling to keep their three dogs from trampling down all his beloved blooms and treasured plants.
"Chatsworth is my idea of floral heaven, and designing flowers for Chatsworth is the floral equivalent of a lottery jackpot."
Heather Redmond, Head Guide
Heather originally graduated in law, but decided to pursue her love of history and art at the National Trust before joining Chatsworth in March 2011. 
When Heather isn't at work she is usually at home swotting up or visiting other historical properties and art galleries. She lives with her husband Alan in rural Derbyshire and can think of nothing better than going out for dinner and having a few drinks with friends. She loves fresh flowers on her desk, decorating her home and searching out antiques. Her dream is to buy a house which needs completely renovating from scratch and keep chickens in the garden.
"On my first day at Chatsworth I was dressed in a corset in the morning, researching clothing of the late 19th century and up on the roof at the very top of the scaffolding in the afternoon... only at Chatsworth would that be deemed as a normal working day!"
Christine Robinson, Head Housekeeper
Christine came to Chatsworth in 1974 and cleaned, sold ice-cream and worked in the Orangery shop every summer until 1977 when she was invited to join the housekeeping team, and went on to become head housekeeper in 2006.
Christine lives in Edensor with her husband Clive, and enjoys gardening, walking and handicrafts, from patchwork and knitting to willow weaving and bowl turning.
"When I first visited Chatsworth as a nine-year-old, I never dreamed that I would end up spending my whole working life here! I have always thought what a privilege it is to work within the amazing family home that is Chatsworth."
Kay Rotchford, Wedding and Events Manager
Kay joined Chatsworth in 2004 as part of the PR and Marketing team, where she organised events such as Chatsworth's first bonfire night celebrations and chaperoned film crews for a variety of TV shows and films. In 2010, Kay joined the Wedding and Events team, where she takes great pride in seeing perfect weddings come to fruition for dozens of brides and grooms each year.
In 2011, Kay's greatest achievement was winning the local tourist board award for Event Planner of the Year.
Kay lives in Sheffield with her husband Kevin and two sons. Both boys are very sporty, so Kay tends to spend most of her spare time on the football pitch or at the diving pool! She also loves days out in the Peak District, trips to the theatre and shopping with friends.
"Our Pride and Prejudice themed wedding photo shoot last summer was a definite highlight of my year. It felt so romantic!"
Ian Turner, Farms Manager
Ian joined Chatsworth as assistant farms manager in February 1980, and became farms manager three years later. Ian is devoted to his position at Chatsworth, caring for the livestock as though they were his own and managing the land which is farmed "in hand" at Chatsworth. Ian lives with his wife Carol, and children Claire and James in Pilsley.
"Chatsworth is a fantastic place and to play a part in managing the farm is very rewarding, especially as it is enjoyed by so many visitors and residents alike!"