Collections and Archives Assistant Ian Gregory reports on another 19th-century visitor to Chatsworth.
Some of those who visited Chatsworth in Victorian times are not well known today but were famous in their own time. One such visitor was Lewis Weston Dillwyn (1778-1855) who signed our visitors' book, together with his wife and daughter, on 15 October 1839.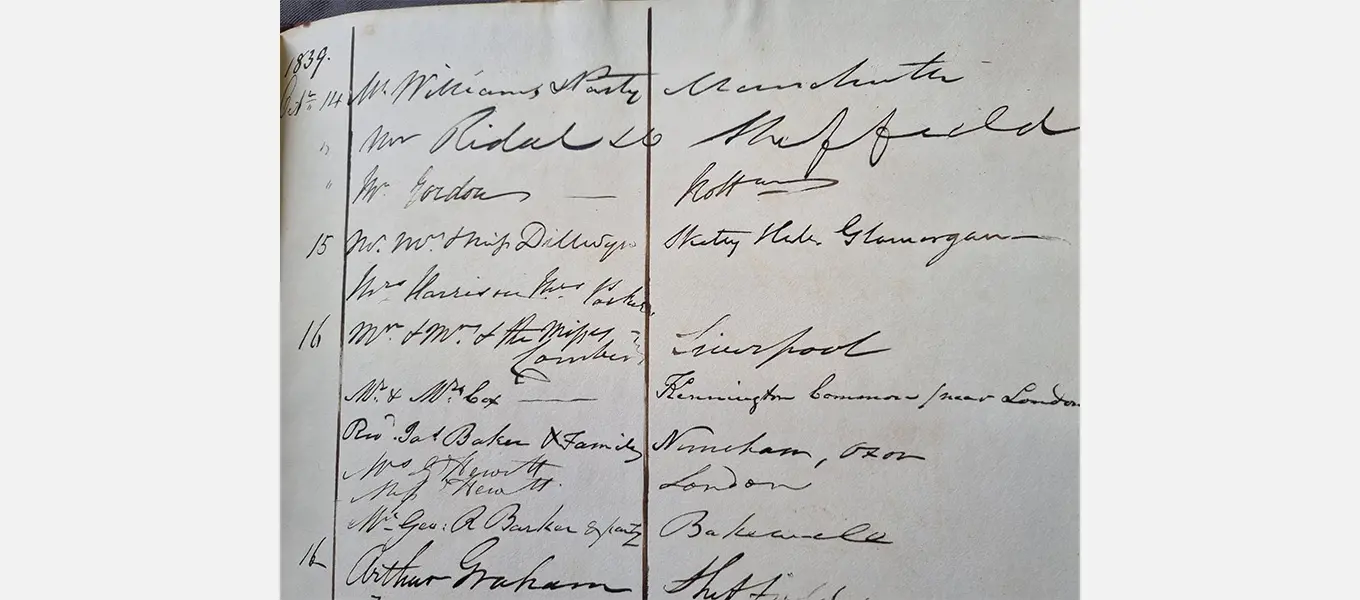 The relevant entry from the visitors' book
Dillwyn's ancestors emigrated from the Welsh borders to Pennsylvania in the 17th century. His father William was a Quaker and a noted campaigner against the slave trade. William left the New World in order to escape the American War of Independence, so Lewis was born in England.
The family later returned to Wales and in 1802 Lewis became a partner in a firm called Cambrian Pottery which was based in Swansea. He became sole owner in 1810, then took on a partner called Timothy Bevington. The company had initially produced basic domestic ware, but Lewis Dillwyn moved production upmarket and diversified into porcelain.
Dillwyn also wrote several works on botany and discovered several species of freshwater algae. In 1804 he was elected as a Fellow of the Royal Society, and in 1832 he became MP for Glamorgan. He bought a Georgian house, Sketty Hall in Swansea, and had it extended.
Lewis Weston Dillwyn died in 1855, but some of his children also deserve to be mentioned. His son John became a pioneering photographer, a botanist and astronomer. He assisted in experiments in submarine telegraphy and built a model boat powered by an electric motor. One of Lewis's daughters, Mary, also became a photographer. She used a small camera with shorter exposure times than those of her contemporaries and so her pictures have a more relaxed and spontaneous look than most from the period.
1839 is often cited as the year in which photography was invented. It also happened to be the year when the Dillwyns called at Chatsworth.