The name Lord Byron is familiar to most people with an interest in history. George Gordon, 6th Baron Byron, is one of Britain's most famous poets. He died in 1824 having no legitimate sons, but he had a cousin who inherited the title of Lord Byron. This man signed the visitors' book at Chatsworth on 23 September 1841.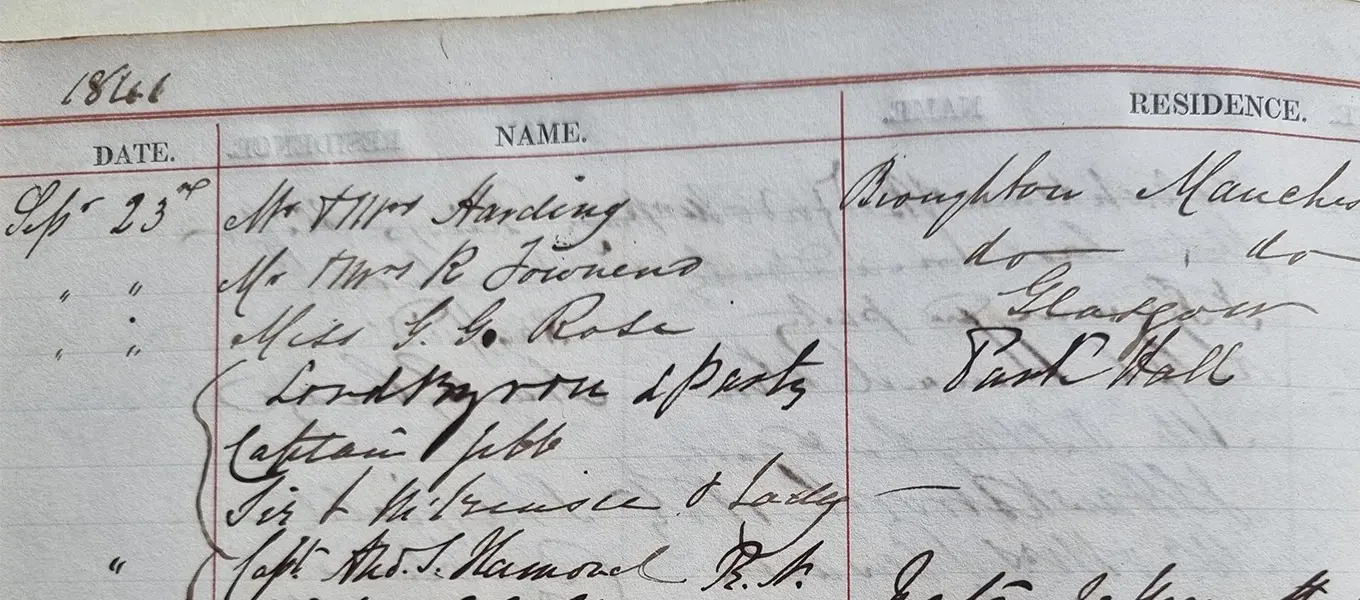 George Anson Byron, 7th Baron Byron (1789-1868), joined the Royal Navy in 1800. He served in the Napoleonic Wars and became a captain in 1814.
In 1824 the King and Queen of Hawaii, Kamehameha II and Kamāmalu, paid a state visit to Britain. Tragically, both of them died of measles during the visit. It was one of numerous illnesses that had only recently appeared in Hawaii, brought to the island by traders and explorers from Europe and America. This meant that there was very little natural immunity to it amongst the local population.
The decision was made to take the King and Queen's bodies home for burial. Lord Byron was given the task of transporting the royal couple on their final journey.
He was accompanied on this voyage by several naturalists. While in Hawaii he toured the islands and noted his observations. In a move that would be condemned today, he removed native artefacts from a ruined temple and brought them back to England. On the way home in 1825, he and his men made the first charts of three Pacific islands: Malden, Parry and Starbuck Islands.
The 7th Baron Byron was very different in temperament to his poet predecessor. He married Elizabeth Mary Chandos-Pole of Radbourne Hall in 1816. They had seven children, one of whom would become the 8th Baron Byron.
We do not know whether the 6th Duke of Devonshire ever met Lord Byron. On the date of Byron's visit to Chatsworth, the Duke had just travelled to his London home, Devonshire House. However, if they did ever meet, then they might have found some common ground. The 6th Duke travelled across Europe, as far as Istanbul. He took a keen interest in botany and scientific developments. He may have bonded easily with a man who also travelled widely and had a thirst for new knowledge.