14 July 1843 was a busy day for visits to Chatsworth. Among those who came was Spencer Compton, 2nd Marquess of Northampton. He signed the visitors' book just ahead of the palaeontologists Richard Owen and William Buckland, who we met in a previous blog post. In fact, he may have visited with the other two men.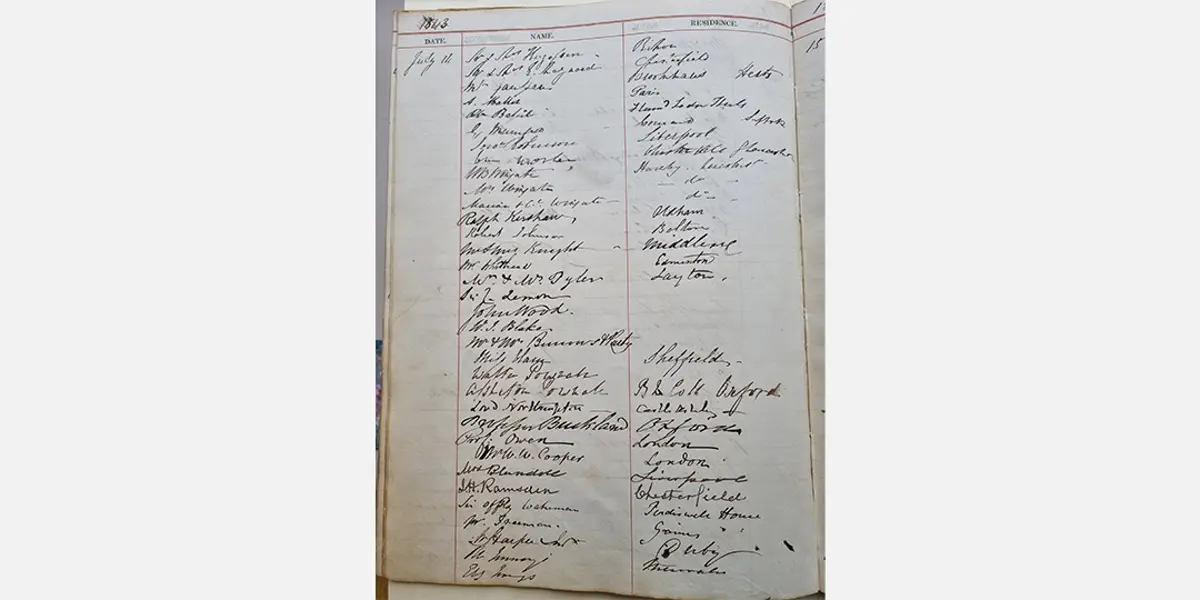 Although he wasn't a scientist himself, Lord Northampton was a patron of science and art. His family seat, Castle Ashby House, was built in 1574 and remodelled in the 18th century. The house itself isn't open to the public but the gardens are open to visitors.
Spencer Compton was born in 1790, the same year as the 6th Duke of Devonshire. In 1812 he became M.P. for Northampton. This was following the assassination of his cousin, Prime Minister Spencer Percival. Percival was the only British Prime Minister to be assassinated. Although Northampton came from a family of Tories he became a maverick and often voted against the Tory government of his day. As a result he lost his seat in 1820. He moved to Italy where his house became a centre of attraction. In 1828 his father died and he inherited the title. 
In 1830 Compton returned to Britain. Like the 6th Duke of Devonshire he supported the Reform Bill of 1832. After that he became more interested in supporting science and art than in politics.
From 1820-22 he was President of the Geological Society of London. From 1845-46 and from 1850-51 he was President of the Archaeological Institute of Great Britain and Ireland. In 1838 he embarked upon ten years as President of the Royal Society. Compton was particularly interested in fossils. A species of dinosaur, Regnosaurus northamptoni, was named after him. It is known only from fragmentary remains, but is thought to be related to Stegosaurs. It lived between 137 and 121 million years ago, in what is now England.
In 1815 Compton married Margaret Douglas-Maclean Clephane, a poet admired by Sir Walter Scott and William Wordsworth. Compton served as President of the Royal Society of Literature from 1849 until his death in 1851. He was laid to rest at Castle Ashby, which is a seat for his descendants to this day.
Interestingly there is also a family connection between Lord Northampton and the Cavendish family. His grandfather was the uncle of Elizabeth Compton who married the 5th Duke of Devonshire's brother, George Augustus Henry Cavendish. Their grandson became the 7th Duke of Devonshire, and he named his eldest son Spencer Compton Cavendish.