As part of Chatsworth's House Style exhibition, visitors to the house are able to see real examples of livery worn by the coachmen and footmen who served the Cavendish family in the late nineteenth/early twentieth centuries. The beautiful yellow and black uniforms on display evoke strong images of the past: of well-dressed coachmen sitting high atop carriages and of tall, stately butlers and footmen bustling about at sumptuous balls and dinner parties.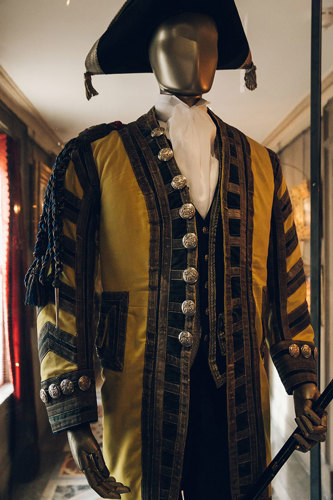 Livery of a Cavendish coachman, as seen in the House Style exhibition
The idea that male servants were often tall and statuesque-looking is one that is quite prevalent. Footman have frequently been described in this way in works of literature, such as in Charles Dickens', 'The Posthumous Papers of the Pickwick Club' (1836-1837). The link between height and service was often made in popular memoirs too, such as Eric Horne's, What the Butler Winked at' (1924). By drawing on evidence from the archives at Chatsworth, this blog post will explore this theme and consider the physical attributes of the servants who worked for the Cavendish family over a century ago.
A series of letters found within the archives is particularly illuminating. This set of correspondence dating from 1910, relates to applications for the post of House Steward or Butler at the Cavendish family's London residence. Alongside their age and experience, prospective candidates have listed their height. For example, applicant Arthur Bright writes:
'I have just left the service of Captain Quintin Dick, where I was employed as a Butler… Sir I have very good references & thoroughly understand the working of a large establishment. Age 36 years. Height 5ft 11in.'
According to a study conducted in 2010 by Professor T. Hutton of the University of Essex, the average height of Bright's contemporaries is estimated to have been 5 ft 5 in. Therefore, it is clear to see that this butler stood head and shoulders above the majority of the population. However, Bright was not tallest applicant; both A. Howlett and Samuel White stood at 6ft!
According to this information, the idea that male servants were often statuesque in appearance seems to be well founded. There are many potential reasons for this: 
Traditionally, such roles were quite physically demanding. Coachmen would have been required to drive carriages pulled by powerful horses, which would have required both physical skill and strength. Similarly challenging was the role of footmen, who historically would have been required to run alongside these carriages. By the early twentieth century butlers and footmen were mostly required for ceremonial duties, such as waiting at table. However, the tall height associated with those performing these tasks may have been a vestige of their more traditional duties.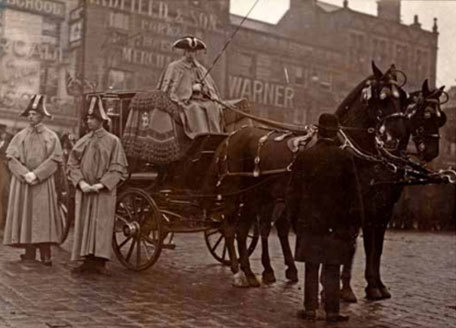 Cavendish coachmen in Chesterfield - late nineteenth/early twentieth century
However, there are other factors which may have contributed to the fact that many male servants employed in the late nineteenth/early twentieth century were uncommonly tall. Perhaps employers wanted to hire individuals who would be sure to look prestigious when dressed up in livery, and thus tall applicants were favoured. With regards to livery, which was usually very expensive, another possibility is that employers wanted to hire servants who would fit into existing uniforms with little alterations required. Therefore the trend for hiring tall servants may have continued.
It was not just the male servants who were statuesque in appearance. Evidence from the archives suggests that female servants employed by the Cavendish family during the early twentieth were also very tall. Kate Perry, the house keeper at Compton Place (the Sussex household owned by the 9th Duke of Devonshire), stood at 5ft 8in. Lack of documentary evidence means that it is very difficult to calculate an average height for women who lived at this time. Nonetheless, given that the average height of Perry's male contemporaries was 5ft 5in, it seems that she was uncommonly tall indeed!
While it may be difficult to provide a reason for the association between service and height, it is clear that the Cavendish servants of the early twentieth century were certainly keeping up appearances - especially when dressed in their magnificent liveries.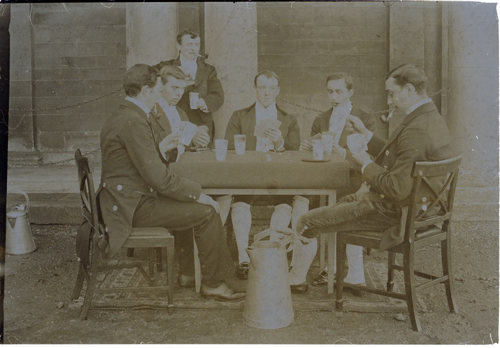 Footmen employed by the Cavendish family in the late nineteenth/early twentieth century