Born on the 15 January 1832 Countess Louise Friederike Auguste von Alten was the second of five children born to Karl Franz Victor, Count von Alten of Hanover, and his wife, Hermine de Schminke.
Her early life was spent in Hanover Germany with her brother and three sisters, in a memoir her youngest sister Julie recalls their childhood. Telling of the simple joys of their flower gardens and orchards, spreading fresh butter on new bread and watching Louise taking part in a 'tableaux vivant', sitting in "a giant mother of pearl shell, her hands full of roses, looking beautiful, sweet 17 indeed"(i).
The next year, in 1852, Louise von Alten would become Viscountess Mandeville after meeting William Drogo Montagu, heir to the Duke of Manchester at the opera in Nice. Their meeting and marriage fulfilled a fortune teller's prediction that she would marry and live abroad, enjoying good health and luck all her life. In the palace chapel at Hanover, and subsequently at the British embassy, they married. Upon his father's death on 8 August 1855, William became the 7th Duke of Manchester and Louise his Duchess. Together they had two sons and three daughters and were married until William's death in 1890.
Entering English society Louise was welcomed and praised for her beauty, it was said of her that "No one knows how gloriously beautiful a woman can be who did not see the Duchess of Manchester when she was thirty"(ii).  A large portrait miniature by Robert Thorburn depicts a newly married Louise bathed in moonlight standing on a raised parapet overlooking a calm sea, a wistful look on her face.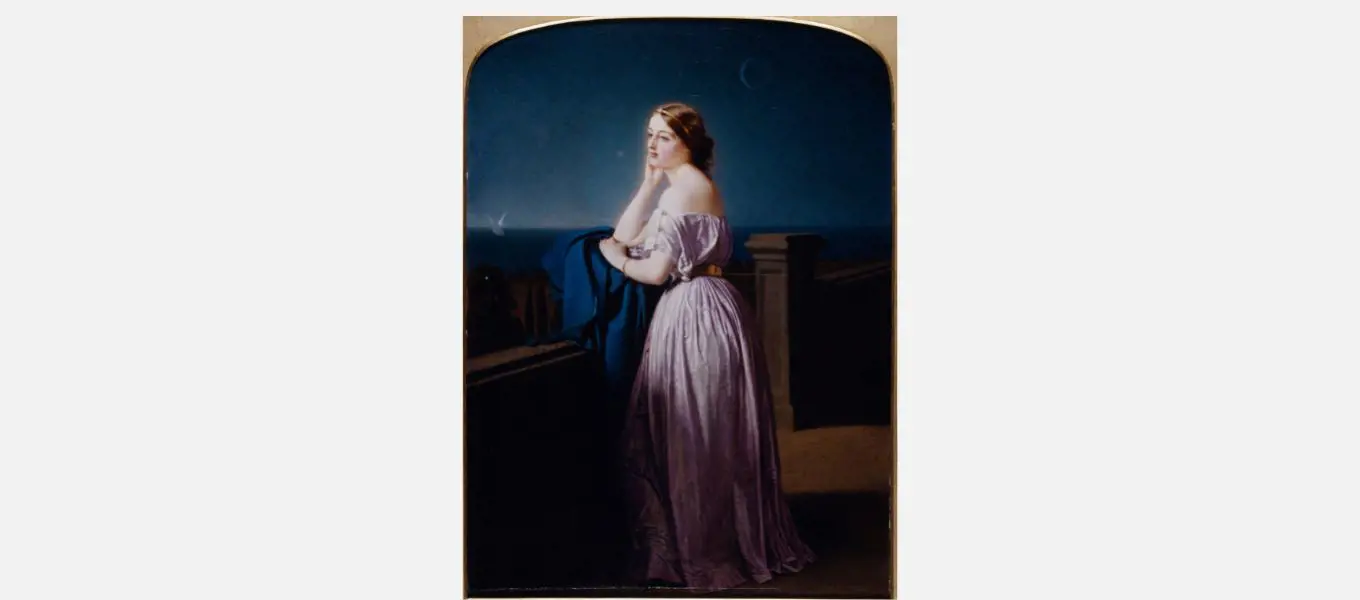 All her life Duchess Louise relished activity, a keen walker and horsewoman she enjoyed walking alone in town, something women of her class didn't often do. She had an independent streak perhaps fostered by her relatively obscure upbringing in Germany- away from stifling notions of propriety. A later biographer observed "Whether in town or country, she holds the rule as to a certain length of walk each day to be inviolable. Once upon a time, she rode a tricycle and in these new days is keenly appreciative of the delights of fast travelling by automobile. She can play and land a salmon with more than average skill. She leads the fast racing set"(iii). A fellow racegoer remembered that the Duchess had "pulled up her skirt and produced a purse from a bag secreted in her petticoats "Put two pounds on Cream Tart for me" she said, it sounded like the voice of an oracle"(iv).
Allied to the Conservative party, Duchess Louise was their preferred candidate for the role of Mistress of the Robes to Queen Victoria, which she performed from 24 February 1858 – 11 June 1859. The duration was shortened by the fall of the Tory government at which point the preferred liberal candidate, the Duchess of Sutherland assumed the role.
Whilst Mistress of the Robes, she was well-liked by Queen Victoria however her growing friendship with Edward, the Prince of Wales, and her membership of his "fast set" meant the Queen rapidly came to disapprove of her. If anything, disapproval from the already outmoded Queen added a certain cachet to Louise's society, and invitations to her dinners, salons, and balls were eagerly accepted from both sides of the political divide.
Entertaining from her London home in Great Stanhope Street off Park Lane, and Kimbolton Castle, Louise was also a fixture at the many house parties attended by the Prince of Wales and his wife Princess Alexandra. Louise was gifted a Faberge box by Queen Alexandra in 1908.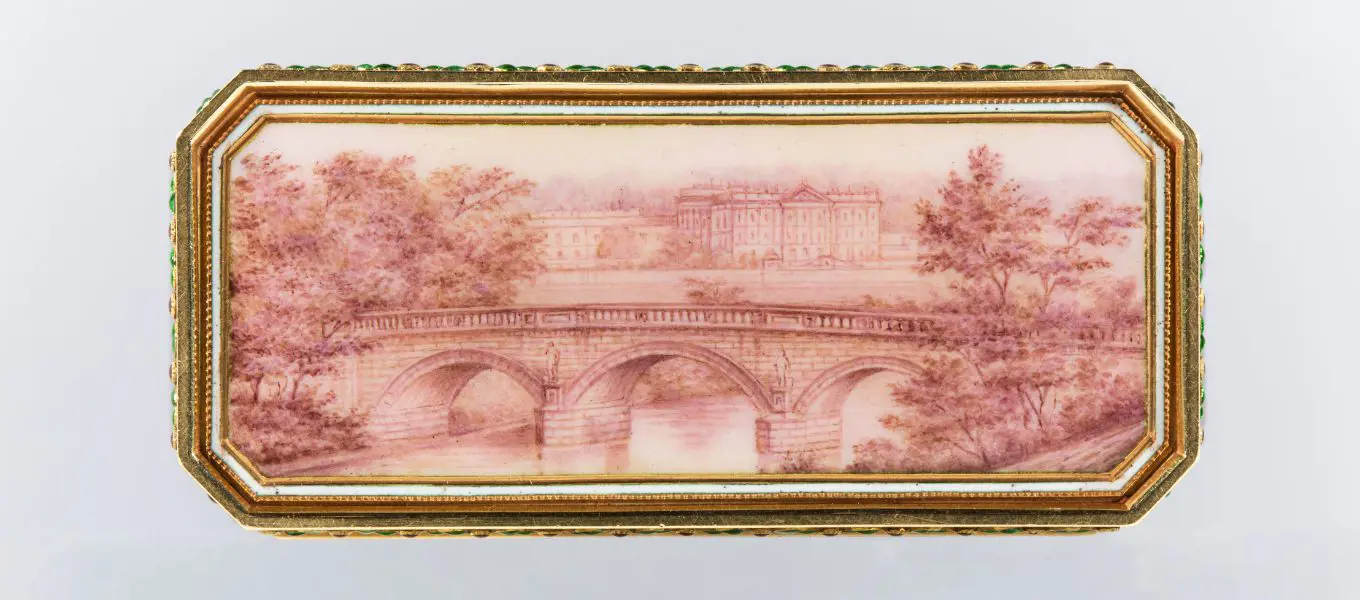 Although Louise was unhappy in her marriage to the Duke of Manchester, he was a profligate spender endangering the family fortunes, she performed her duties caring for their homes and raising their children with devotion.
In upper-class society discrete romantic affairs were tolerated and it was such an affair that Louise and the future Duke of Devonshire Spencer, Marquis of Hartington conducted. A single moment of indiscretion is recorded, whilst staying at Welbeck Abbey and occupying herself by writing letters Duchess Louise was overheard by the Dowager Duchess of Portland saying "Harty darling, stand me a stamp"(v).
After the Duke of Manchester's death in 1890 two years elapsed during which time it was speculated as to whether Spencer, the now 8th Duke of Devonshire, and Louise, Dowager Duchess of Manchester would marry. It was a sad fact that whilst Dowager Duchess Louise at 60 was considered verging on elderly, the Duke at 59 was regarded as still capable of marrying a younger wife and providing himself with an heir. However, the 30-year romantic attachment endured and on 2nd  August 1892, at Christ Church, Mayfair, the sixty-year-old Dowager Duchess of Manchester married the 8th Duke of Devonshire earning her the sobriquet "the Double Duchess".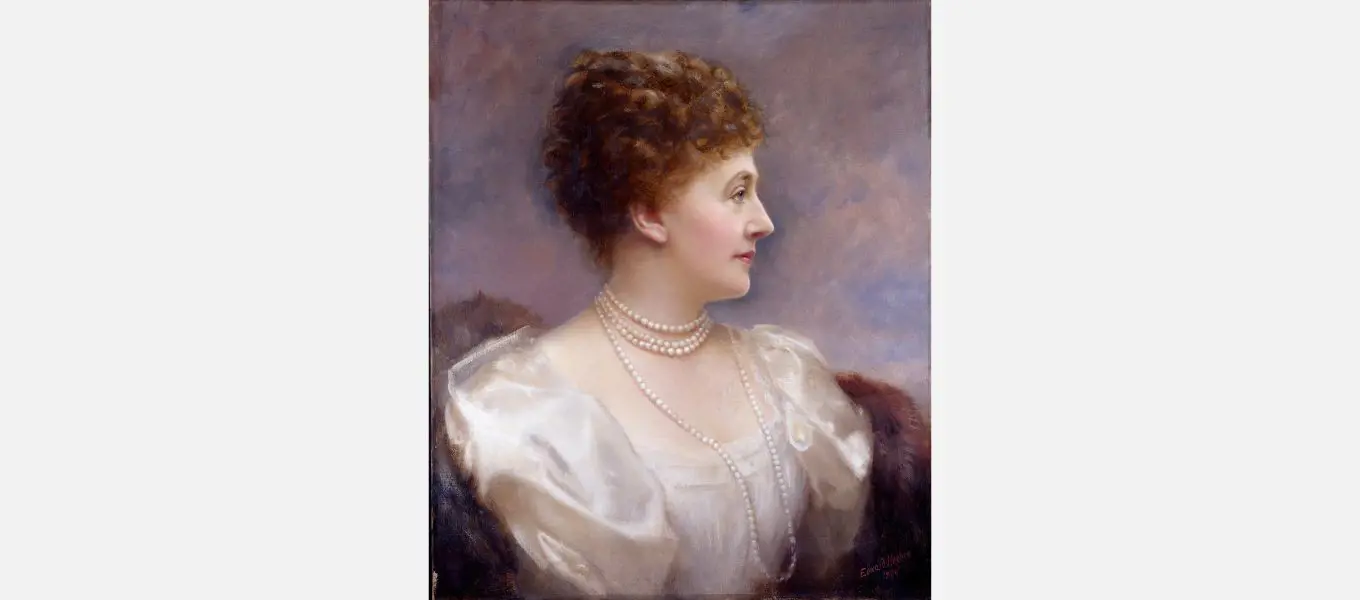 The Devonshire houses were enlivened by the presence of the first Duchess of Devonshire for more than 80 years. The Duchess was a dedicated card player and provided gambling chips and cards in every room at Chatsworth, mischievously placed next to bibles, her devotion to the game earned her the nickname "Grand Slam".(vi)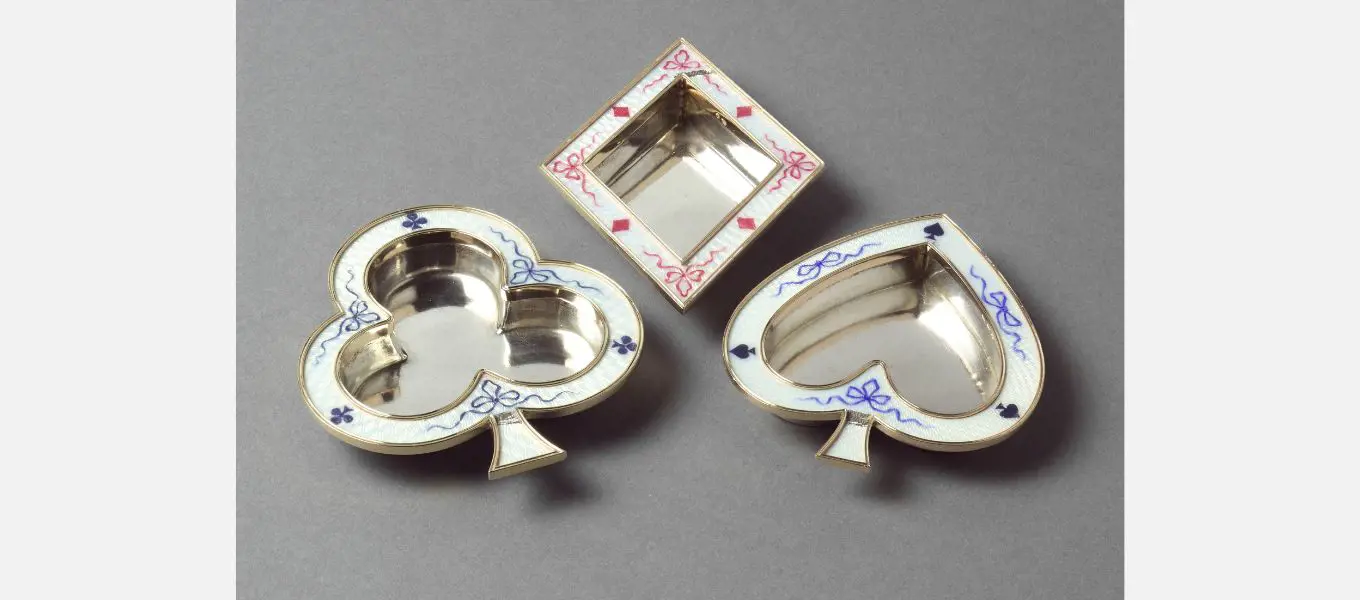 Each year, on the eve of the Derby at Epsom, the Duke and Duchess would host the Devonshire House Ball, the most famous of which was given in 1897 to celebrate Queen Victoria's Diamond jubilee.
For the fancy dress ball, guests were invited to dress in allegorical or historical costumes from before 1815, Duchess Louise chose to dress as Zenobia, Queen of Palmyra. You can find out more about her costume here, the Worth dress.
Duchess Louise in her 1897 Devonshire House Ball costume, the dress and head dress
Duchess Louise's costume was ornamented with both real and costume jewels and strands of pearls which she was often pictured wearing in portraits and photographs. In the collection is a tiara made for Louise in 1897, the Palm and Lotus tiara,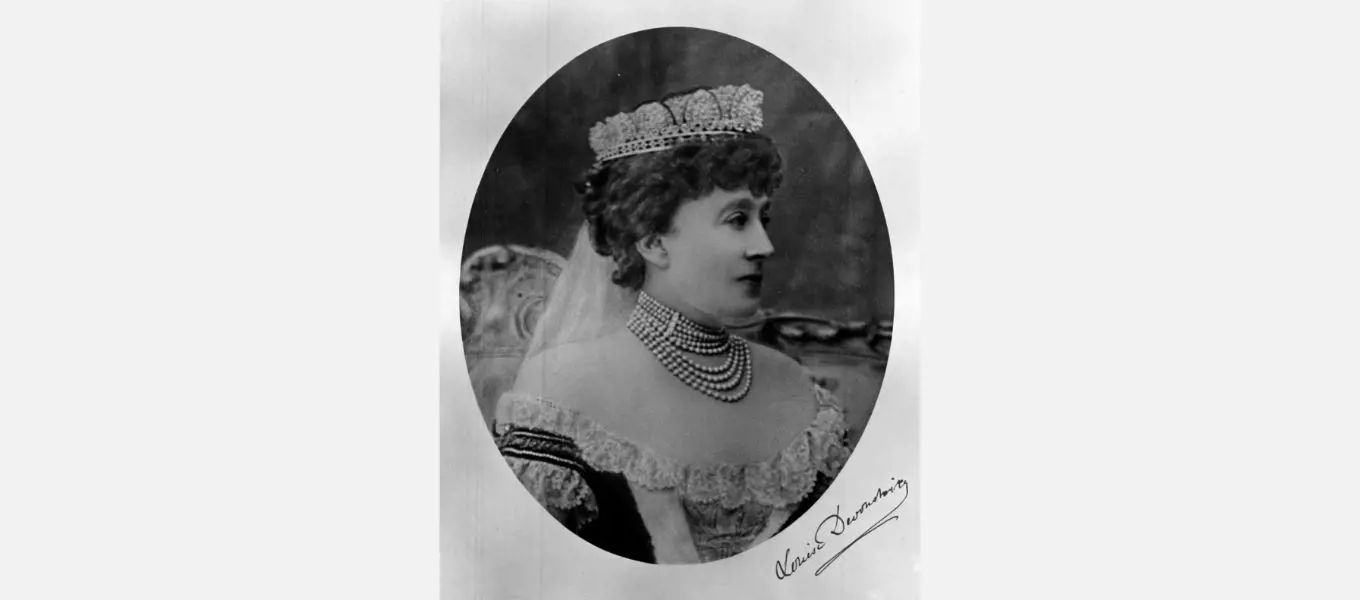 Duchess Louise and the Duke appear to have had a relationship based on equality. Many of their peers commented on his reliance upon her and how she was the constant guiding force behind his political career. She also cared for him as his health deteriorated, organising amusements and travel to occupy him.
Chatsworth librarian Eugenie Strong recalled the Duke sitting down in the library to read Paradise Lost, quoting passages aloud and murmuring "How fine this is! I had forgotten how fine this was". (vii) The Duchess entered the room "poking her parasol into the Duke before remarking "if he begins to read poetry he will never come out for his walk". With her lifelong dedication to exercise, the Duchess ensured the Duke joined her and together they would enjoy their gardens and views.
The Duke and Duchess enjoyed 16 years together before the Duke died in Monte Carlo in 1908, he and the Duchess were returning from a winter spent in Egypt in the hope the warmer climate would alleviate his health problems.
Louise, a Dowager Duchess for the second time, lived a quieter life, visiting friends and inevitably living in the shadow of her much younger self, biographers and contemporaries making at times cruel comparisons between the beautiful appearance of her youth and the elderly lady she now was.
Whilst attending the races at Sandown in Surrey,  Dowager Duchess Louise suffered a seizure, dying at nearby Esher Place on the 15th July 1911, she was 79. Laid to rest beside the 8th Duke in the churchyard at Edensor there are photographs of her grave covered in thousands of flowers.
She was survived by 4 of her five children and her many grandchildren, three of whom are depicted in a painting by John Singer Sargent which hangs at Chatsworth.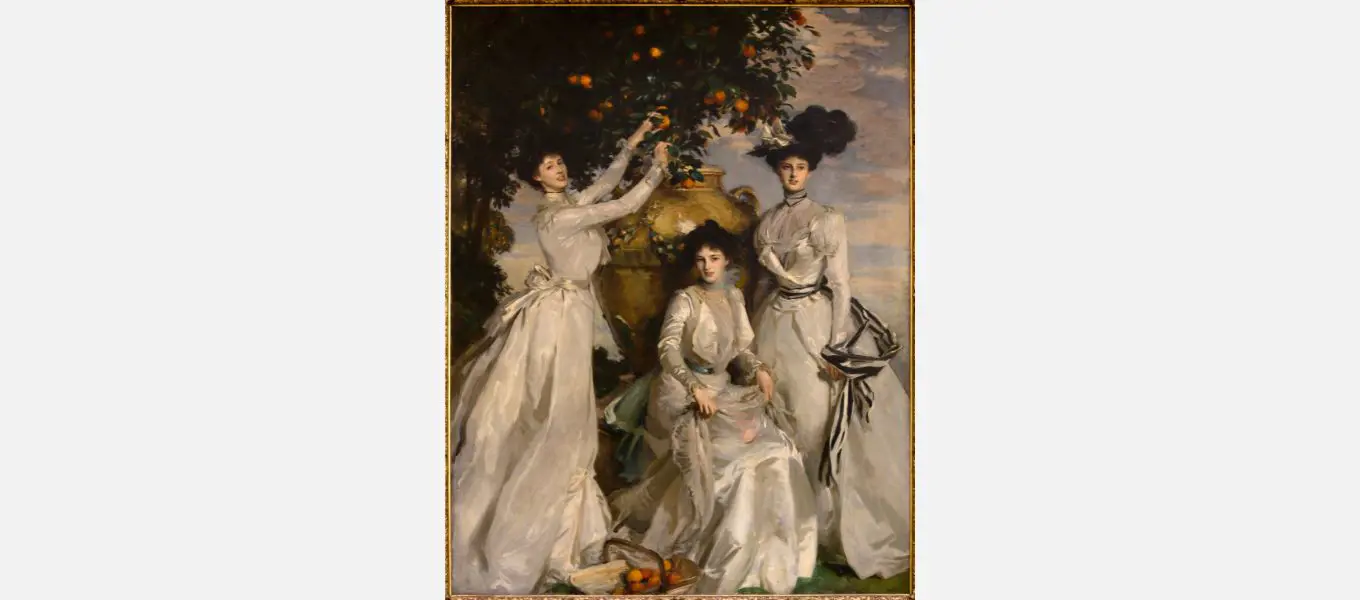 i von Albedyll-Alten, Julie p15
ii Ridley, Jane p113
iii Leach, Henry p322
iv Vane, Henry p327
v Ibid p83
vi Ibid p227
vii Ibid p247
Leach, Henry. 1904. The Duke of Devonshire.
Ridley, Jane. 2012. Bertie: A Life of Edward VII
Vane, Henry. 2004.  Affair of State. A biography of the 8th Duke and Duchess of Devonshire.
Von Albedyll-Alten, Julie. 1914. Aus Hannover und Preußen : Lebenserinnerungen aus einem halben Jahrhundert.