The Peak District National Park has a split personality. In the north you'll find the Dark Peak, a higher and wilder terrain with wide open moorlands, heather, peat, limestone and grit.
Head south and the landscape of the White Peak is much lower and softer, with lush green valleys, caves and a greater population of towns and villages.
Match the scenery to your mood and leave feeling energised.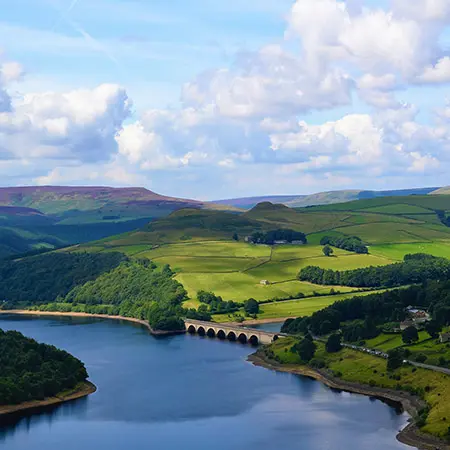 Derwent Valley Heritage Way
The Derwent Valley Heritage Way follows the River Derwent from Ladybower Reservoir to its mouth near Shardlow, where it joins the River Trent. Walk the 55-mile stretch through the beautiful and heritage rich landscapes of the Peak District National Park and the Derwent Valley Mills World Heritage Site, with plenty of country pubs and charming tea rooms on the way.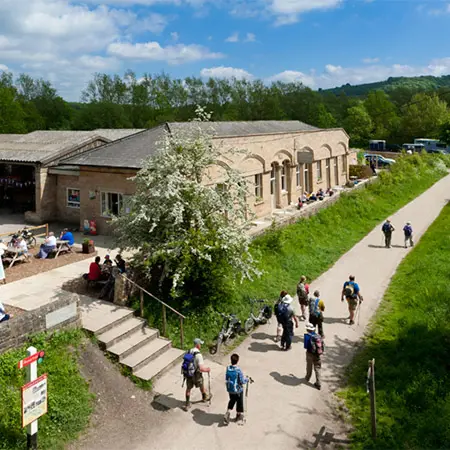 Monsal Trail
The Monsal Trail is an 8.5 mile traffic free route for walkers, cyclists, horseriders and wheel-chair users that runs along the former Midland Railway line between Blackwell Mill, in Chee Dale, and Bakewell.  The route takes in some of the Peak District's dramatic limestone dales as well as four 400m long railway tunnels and former Hassop Station, which is now a charming cafe, gift shop and bike hire venue.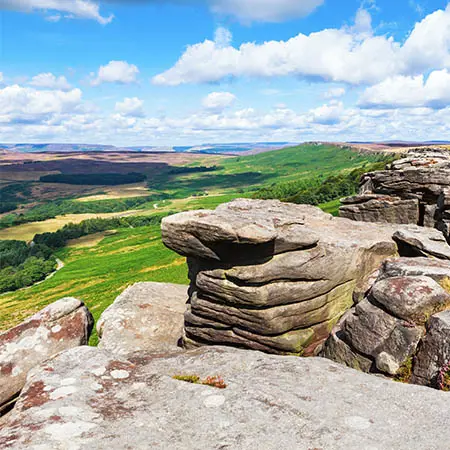 Stanage-North Lees, Hathersage
Stanage-North Lees covers more than 1340 acres yielding 1200 identified routes through farmland, woodland, moorland and dramatic bouldering and rock edges. Fans of the 2005 film adaptation of Pride and Prejudice will recognise Stanage Edge, whilst North Lees Hall is said to have been Bronte's inspiration for Thornfield Hall in the novel Jane Eyre.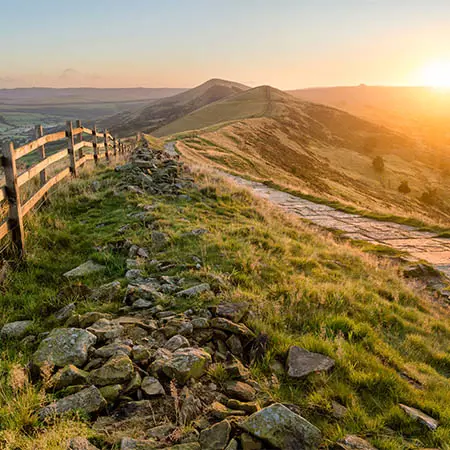 The Great Ridge, Mam Tor
The Great Ridge separates the vales of Edale and Castleton and extends for just under 2 miles from Mam Tor, in the west, to Lose Hill, in the east. The ridge affords far reaching views over Edale, Hope Valley and even the edge of Kinder Scout. A 6 ½ mile walk starts at Castleton and passes both Treak Cliff and Blue John Cavern. You can extend it to 8 miles to include a riverside walk on the return.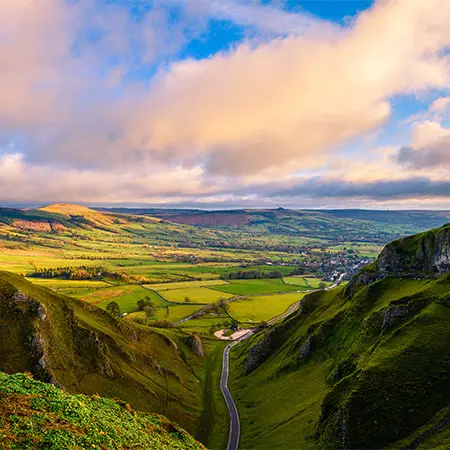 On top of the world, Peak National Parks
If you aren't able to manage a full mountain hike, or are only staying for a short time and want to log every amazing view in your memory bank, this tour takes you by car to the base of seven of the best views in the Peak District, where you disembark for a 10-20 minute walk to the summit. 
Other places you might like