Collections & Archives Assistant Ian Gregory is continuing to transcribe Chatsworth's historic visitors' books and reports on another signature that caught his eye recently.
On 11 August 1838, a Mr and Mrs Stott signed the visitors' book at Chatsworth. They gave their residence as Balloch Castle in Dunbartonshire, Scotland. The castle in question looks like a medieval fortress, but is it?
There was a castle at Balloch in the 13th century, but it was abandoned in favour of a more secure location. By the 18th century, the original structure lay in ruins. In 1800 John Buchanan, a merchant from Glasgow, bought the site. He ordered the construction of a new castle there in 1808, and this is what we see today. In 1830, Buchanan sold Balloch and the Stott family became one of several later owners.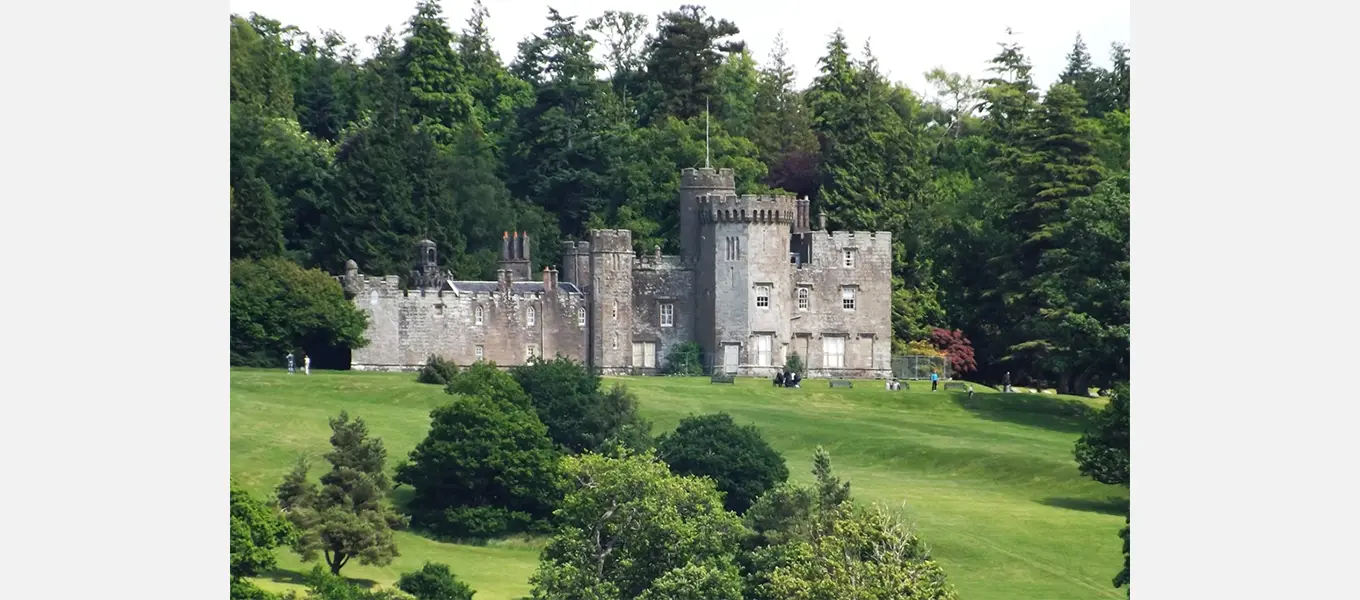 Balloch Castle has arrow slits, towers and crenellations, yet it was never intended as a working fortress. When the present building was commissioned, two movements were sweeping Britain and Europe. One was Romanticism, which preached the importance of passion and heightened appreciation of the beauties of nature. The other was cultural nationalism, a belief that each country had a unique culture which its people must cherish. Some took this to mean that outside influences on their country were bad, and this does not sit well with many people today. However, it relates to Balloch in that its owner wished to respect or even revive the medieval past of Scotland. That past was imagined as swathes of wilderness dotted with castles owned by feuding but chivalrous chieftains. The novelist Sir Walter Scott did much to popularise this image.
Today scholars question this view of Scottish history. Evidence is mounting that the Scottish Highlands were more densely populated than once we thought. Where now we see open moorland, farms and villages once stood. During the late 18th and early 19th centuries, many Highlanders were forced off the land to make way for sheep farms. Many emigrated to North America or Australia.
When Buchanan commissioned his new castle, was he successful in reviving his country's past and distinctive features? Or was he attempting to recreate something that never existed? Today the consensus is that he was doing the latter.
We don't know exactly what prompted the Stotts to visit Chatsworth, which was a great contrast to Balloch architecturally. However, during the early 19th century, new shrubs and trees were planted at Balloch. They included Rhododendrons, Azaleas and conifers. A new walled garden was laid out near the castle. Did the Stotts note a parallel with Chatsworth? Their visit coincided with Paxton's remodelling of the gardens here. This included importing North American conifers. New plants and trees were coming into gardens all over the U.K. from Asia and the Americas. The Stotts and the Devonshires appear to have shared an interest in this.
Photograph of Balloch Castle by Mark Harkin, CC BY 2.0, via Wikimedia Commons