Like many other heritage sites across the UK, Chatsworth has felt the effects of the coronavirus pandemic. Chatsworth House Trust (CHT), the charity dedicated to the long-term preservation of the house, the collections, garden, woodlands and park for the benefit of the public, relies on visitors for its income, with every penny generated from ticket sales going directly to the trust. The enforced closures and restricted visitor numbers have had a huge impact on the income of the charity.
In January CHT was awarded £20,000 by Historic England as part of their Covid-19 Emergency Heritage at Risk Response Fund supported by the Government's Cultural Recovery Fund.
The funding will support essential maintenance work on the 18th century former Stables. Designed by James Paine in 1758 for the 4th Duke the "Great Stables", as they were referred to in building accounts, had stalls for 80 horses including carriage, riding and cart horses. To care for them all the building was fitted with a blacksmith's shop and shoeing space as well as two harness rooms and accommodation for the grooms, coachmen and stable boys. Over time, like all buildings, the Stables has been subject to the elements and in need of maintenance. The emergency funding will support a project to prevent further water damage to the Grade I listed building through repairs to the cast iron gutters, downpipes and Westmorland slate tiles, as well as replacing rotten timbers to provide structural stability.
Works on the Stables were completed in March 2021.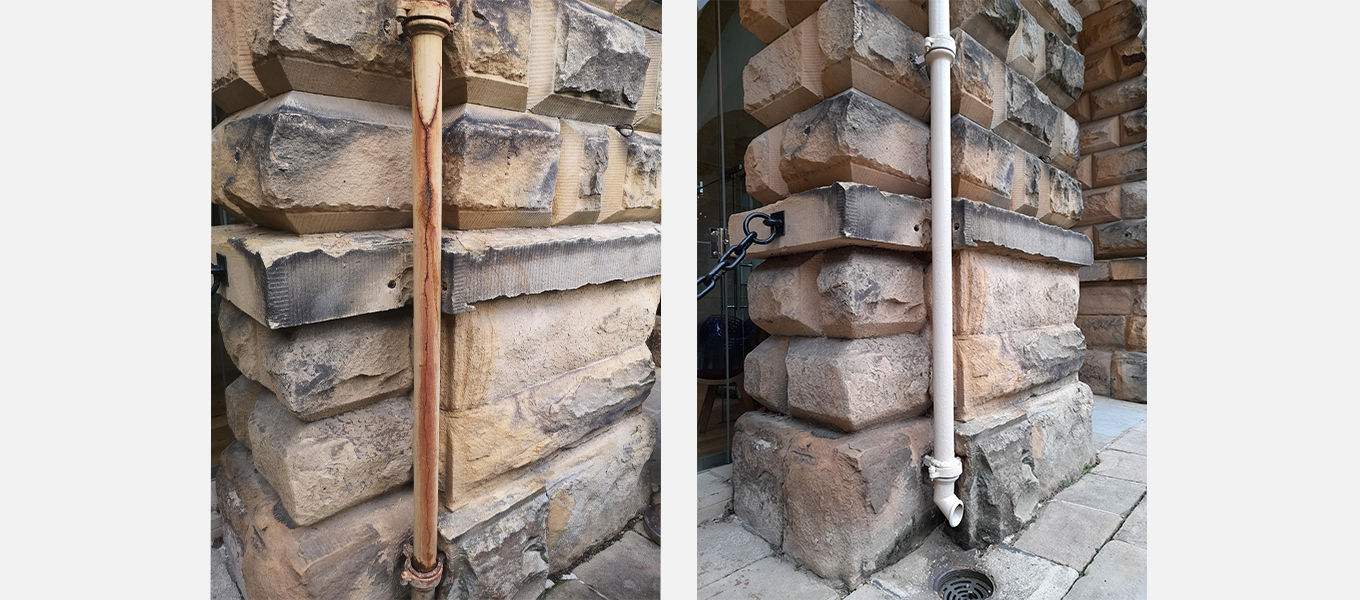 One of the Stables downpipes before and after maintenance was carried out.
Andrew Lavery, Chief Executive Officer of CHT said: "Chatsworth House Trust is delighted to have received this award from Historic England as part of their Heritage at Risk Response fund. The money will support this vital project to preserve our infrastructure and ensure it is fit for purpose for many years to come."
Culture Secretary Oliver Dowden said: "As a nation it is essential that we preserve our heritage and celebrate and learn from our past. This massive support package will protect our shared heritage for future generations, save jobs and help us prepare for a cultural bounceback post-Covid."
Duncan Wilson, Historic England's Chief Executive said: "It is heartening to see grants, both large and small, from the Government's Culture Recovery Fund helping heritage sites and organisations across the country which have been hit hard by the effects of Covid-19. These grants range from giving skilled craft workers the chance to keep their trades alive to helping heritage organisations pay the bills, and to kick-starting repair works at our best-loved historic sites. The funding is an essential lifeline for our heritage and the people who work tirelessly to conserve it for us all, so that we can hand it on to future generations."