On Saturday 12 September Lord Burlington and a team of six committed cyclists completed a 208-mile charity cycle ride around the boundary of Derbyshire to raise money for Foundation Derbyshire, the county's community fund.
The ride started in Sudbury at 4am and took Lord Burlington and the team up beyond Glossop in the North, to Creswell, Shirebrook and South Normanton in the East, down to Swadlincote and Lullington in the South before returning to Sudbury 17 hours later.
During the ride, the team travelled with an average speed of 15.5mph and ascended over 4,500m/ 14,585ft of vertical ascent - just over half the height of Mount Everest!
Banner image: Team members from left to right: Alison Fovargue, Andy Eagers, endurance cycling world record holder Leigh Timmis, Lord Burlington, Paul Gibson (Assistant Chief Constable in the Derbyshire Constabulary), and Michael Kirkland. Dr Andy Hooton, senior lecturer at the University of Derby (not shown in this image) also joined the team for a short but hilly section around Glossop.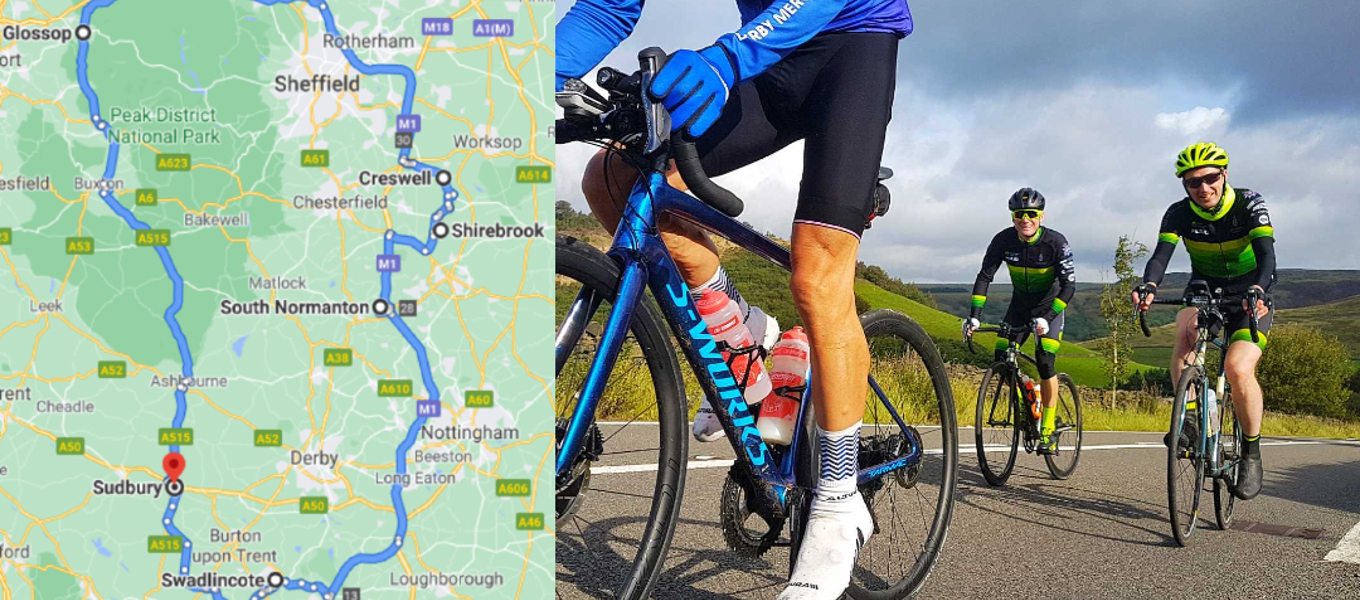 Commenting on the achievement, Lord Burlington said: "This was certainly the toughest physical challenge I have ever undertaken but what an honour it was to ride around the county border wearing the logo of Foundation Derbyshire. Since April they have distributed over £1 million to charities and good causes right across the county, yet there is so much more to do and their work, as well as their role for the voluntary sector in general, is more important than ever."
"If our ride has enabled Foundation Derbyshire to help just one family, or even one individual, to live a better life then it will have been worth it."
In order to reach the level of fitness needed to complete this challenge, Lord Burlington spent time training with Dr Tom Outram and his team of experts from the University's High Performance Unit, alongside following training programmes provided by Chatsworth Health Club - their help of which Lord Burlington was "profoundly grateful for, especially when Snake Pass loomed in to view."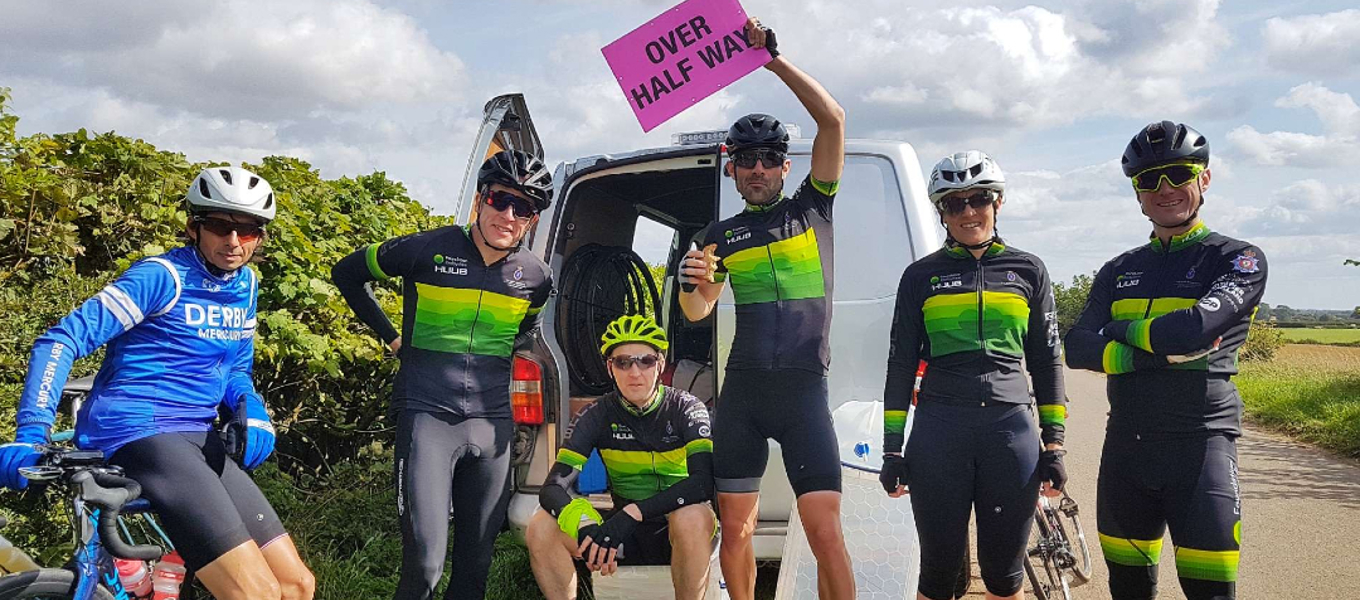 Not only did completing this journey take a great deal of determination and strength on the day, but also in the many months leading up to it. The Duke and Duchess congratulated Lord Burlington and team, saying:
"We are both very proud of our son, his 208 mile bike ride is an amazing achievement especially as it has had to be postponed so often meaning he had to train to peak fitness no less than three times!  We are grateful to the rest of the team of riders for their support during the ride and during the many, many hours of training. Chapeau aux cyclistes!"
"Foundation Derbyshire is a wonderful organisation and the more publicity it gets the better; it will be able to look after the people and communities of Derbyshire. We do hope that everybody who reads this will spread the word about their amazing work."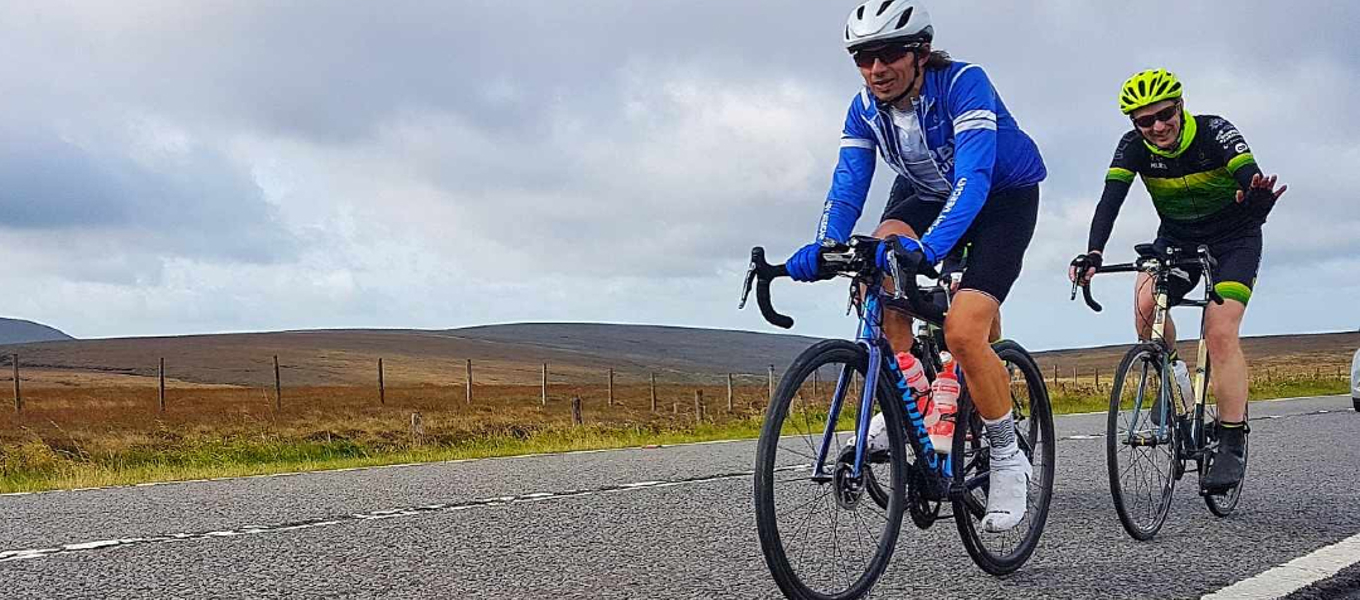 Lord Burlington added "A titanic thank you to everyone who has so generously supported this vital cause already and to all well-wishers. Firstly, thank you to Susie Grottick and her team at Chatsworth Health Club for their help early on in the process, including providing a training programme and lots of encouragement, as well as to the Human Performance Unit at Derby University, for their further training expertise."
"Additionally a thank you to Laura, for putting up with a training regime that spanned three frustrating postponements, Jason Kendra, for preparing some delicious energy-filled food for me (which was a life saver with about three hours to go), and to all of our team's supporters on the day."
"Finally, a thank you to the other riders, led by world record holder Leigh Timmis, without whom I'd probably still be out there."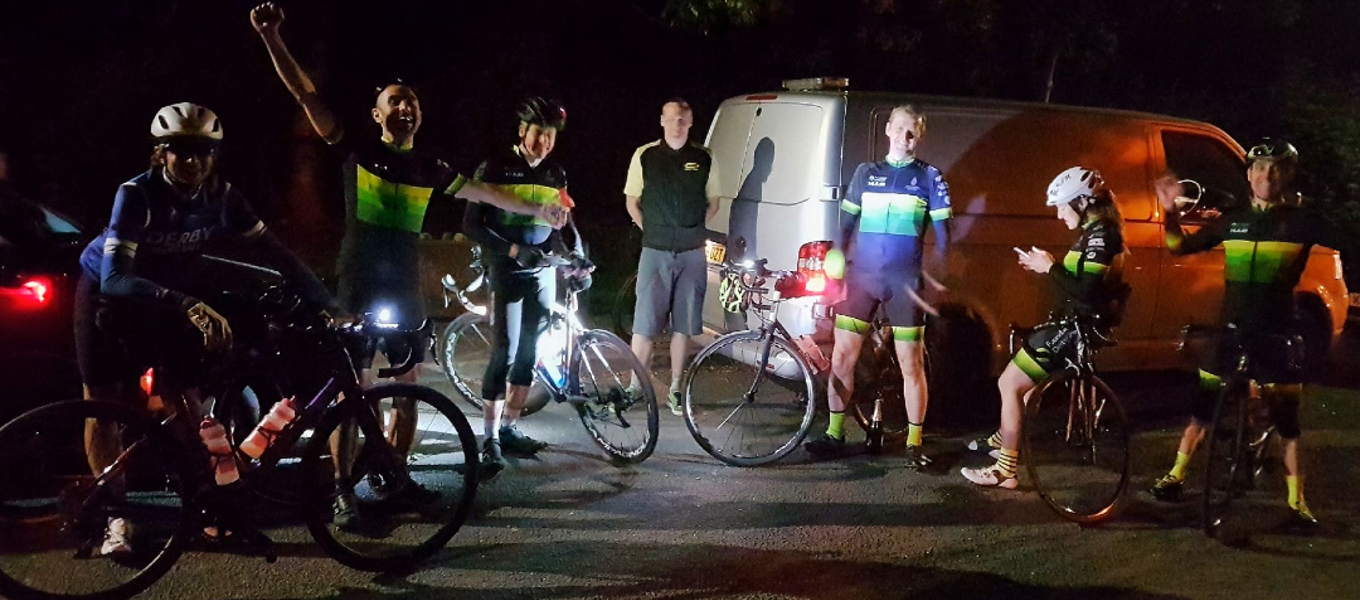 Foundation Derbyshire
The Chatsworth Estate is proud to be associated with and to support Foundation Derbyshire.
Established in 1996, Foundation Derbyshire is a community fund that supports charities and worthy causes throughout Derbyshire and now manages endowment funds of over £7 million; it has made over £16.5 million of grants across the county. The Foundation's donors, of which Chatsworth is one, include businesses, individuals, trusts and families who make this all possible.
Foundation Derbyshire helps support vital causes and to reach the groups and projects across Derbyshire that so desperately need help. The local activities they invest in and support are spread across the city, towns and villages of Derbyshire and by making a donation, we can all make a vital difference in this wonderful county.
To find out more about the grants available, success stories or to make a donation, please visit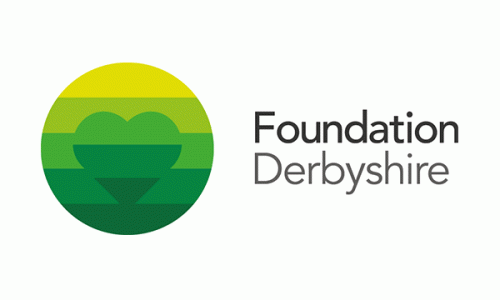 foundationderbyshire.org/