Flowers
October began with a huge amount of colour throughout the cutting garden beds. In fact, an impressive harvest of thousands of flowers were cut from the garden for various events and weddings here at Chatsworth. Throughout October the dahlias were resplendent along the cutting garden paths, but now that the first frost has arrived (30 October) they all need to come out. In fact, most of the annuals and perennials are now over for the year. As each variety finishes, the annuals are removed and the perennials cut down.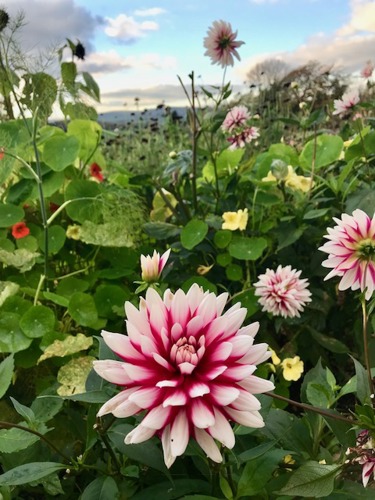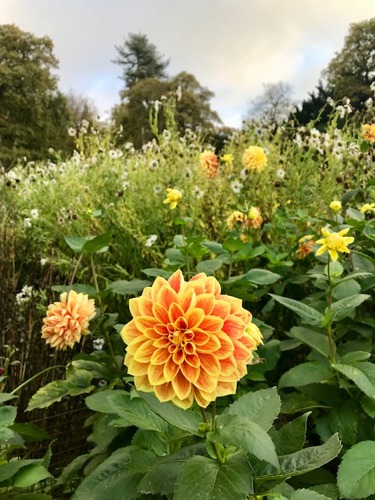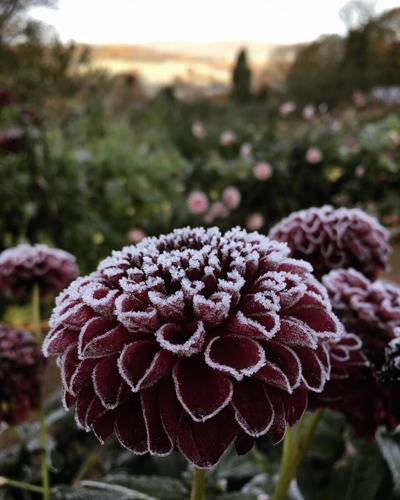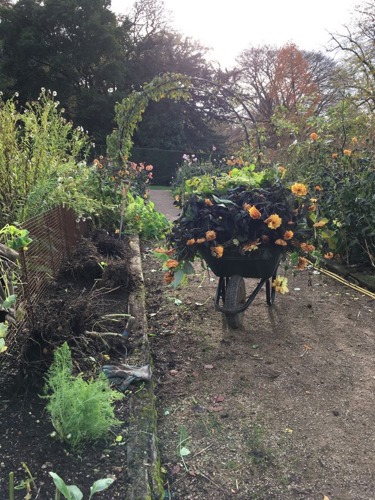 The end of the dahlias...
You may have noticed the photos of different varieties of certain flowers side by side on previous blogs and on Becky's Instagram account… The purpose of these is to allow comparison – in terms of colour, size, shape and so on – so that Becky can make more informed decisions each year about what she will purchase again and where there are areas for improvement to try out new varieties. It's now that time of year where the garden journal is consulted to create lists of seeds and plants which are to be ordered for 2018. Let us know if you have any suggestions!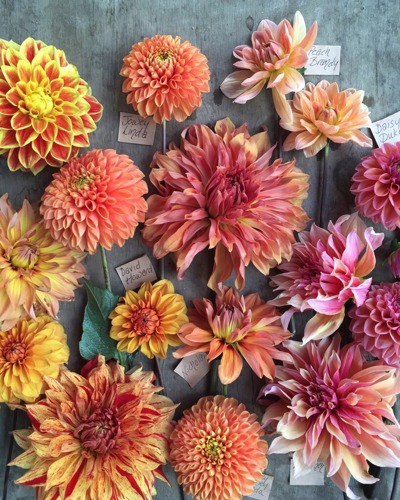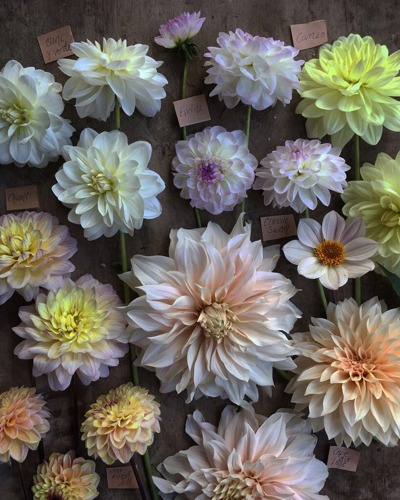 This year Becky is trialling something new (for Chatsworth), with the Ranunculus she planted in May: now that this year's flowers have been and gone, she has harvested the corms, split up those that have multiplied, and soaked them for 5 hours to recover them. Next they were safely bedded in compost filled trays. Once roots appeared, they were replanted to spend winter in the glasshouse beds. She has gone through a similar process for the Anenome corms (although these don't need to be split up).
Fruit
Every year the glasshouse and production team in the garden enter the autumn fruit and vegetable competition at the RHS Harvest Festival Show, held in London in early October. For about the last 50 years we've entered the Muscat of Alexandria grapes from the Vinery, and more recently we've also been entering other produce from the kitchen garden and glasshouses. This year, Stefan's produce achieved several prizes, including: second place for a collection of six types of herbs, medlars and Duke of Devonshire apples, and his french beans won third prize (the first time we've entered this class).
This year the harvest of apples and pears was slightly below normal. This may have been partially because of weather, but is also very common after and abundant harvest like the one in 2016, which can exhaust the trees.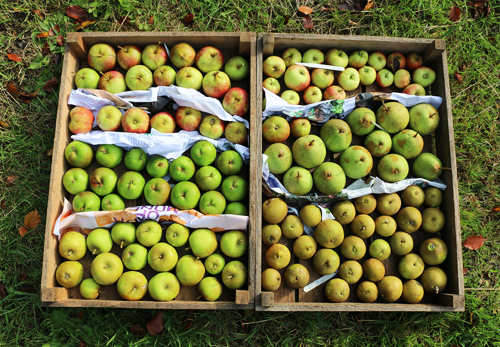 Another October task is collecting pine needles from Stand Wood, which are used as mulch for blueberries. They help the soil to drain around the plants and also provide an ideal range of nutrients as they break down into the soil. This isn't the only example of one area's waste proving useful elsewhere: the smaller branches found littering the floor in the woods are used to stake peas, and slightly larger ones for broad beans and runner beans.
Stefan has also been busy potting herbs (now in the glasshouses as they are warmer than the poly tunnel), cutting down the herb border and digging trenches in preparation for planting out peas and beans in spring. Once all this is done, he will begin winter pruning of black, red and white currants, and gooseberries.
Vegetables
Also an entrant of the RHS Harvest Festival Show, Glenn's golden beetroot won first prize, rhubarb chard won second prize, and fourth prizes were awarded for cylindrical beetroot, red kale and a pot of basil.
This month Glenn has been busy clearing out spent crops and harvesting those those that will be used in the coming months. Winter brassica – kale, Brussel sprouts, cabbages and cauliflower – are being harvested for immediate use, and onions and beetroots are being stored in sheds for use later. There is a fortnightly cycle of salad leaf sowing in the greenhouses, to ensure a steady supply of salads to the house throughout winter.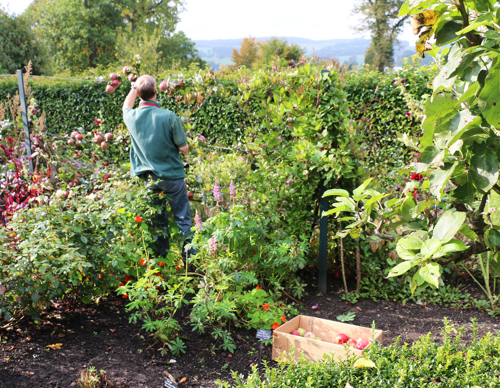 He has also started winter digging for crop rotation: all the chard and salad leaves currently on colourful display will be moved to different beds, and the peas and beans bed is being dug over to recover for new crops next year. The asparagus has all been cut down and the area has been weeded for sprouting again in May. Broad beans for early spring have been sown into cold frames, and new potatoes have been potted in the greenhouse for winter harvesting.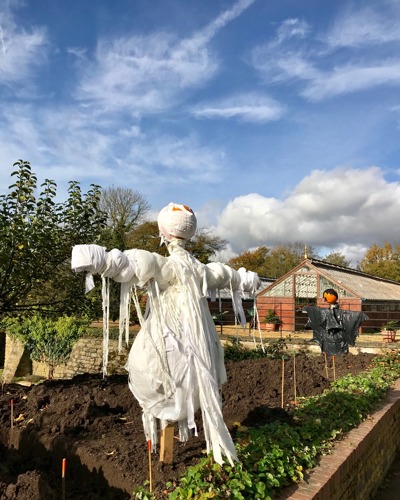 Certain beds in the Kitchen Garden currently have slightly unusual pumpkins in them… The scarecrows were made by local schools and are just one of the Halloween surprises hidden throughout the garden and farmyard.
Explore the full blog series