Mary Alice Gascoyne-Cecil, known within her family as 'Moucher', was born to James Gascoyne-Cecil, 4th Marquis of Salisbury, and Lady Cicely Alice Gore daughter of the Earl of Arran. She was born at Hatfield House, the family seat, on 29 July 1895 and was the third of four children. 
The Devonshire collection contains portraits and objects associated with the Duchess, some of which mark specific moments in her life whilst others are more domestic and are things she liked to be surrounded by.
Images: 1. Lady Mary Gascoyne-Cecil, cira 1913, Florence Kate Upton, 2. Lady Mary Gascoyne-Cecil, circa 1910, British School, 3. Portrait of Mary, Duchess of Devonshire when Marchioness of Hartington, by Peggy Sutton
On the 22 April 1917 she married Edward, eldest son of the 9th Duke of Devonshire and together they had five children, four of whom would live to adulthood.
Lady Mary Gascoyne-Cecil and Edward, Lord Hartington on their wedding day.
Duchess Mary with her children (l-r) William (known as Billy), Anne, Elizabeth, and Andrew (11th Duke of Devonshire)
In 1918 Sir James Jebusa Shannon was commissioned to paint a portrait of Lady Hartington (main image above), Edward writing to her from Paris in 1918 observed "It is very exciting about your picture. You did not tell me it was being done. I hope you like it, and it is something like you".
The Duke and Duchess's eldest son, known as Billy, was killed in action in 1944, his loss cast a long shadow over the couple. Only weeks before, Billy had married Kathleen "Kick" Kennedy, the sister of US President John F Kennedy. The pair would have been the next Duke and Duchess and made Chatsworth their home.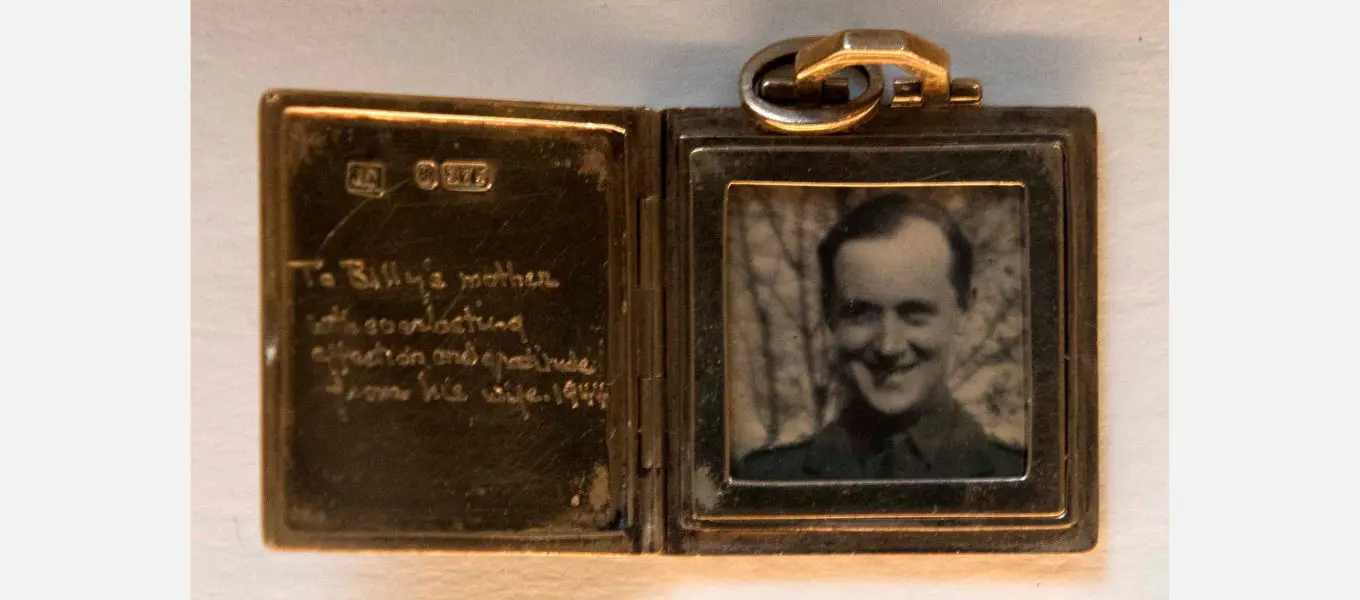 Locket given to Duchess Mary by 'Kick' Kennedy in memory of Billy, Lord Hartington
Duchess Mary became a widow in 1950, the Duke having died suddenly at their home in Eastbourne.
Amanda, Duchess of Devonshire describes Duchess Mary as "a modest person, she dedicated her life to service and duty". The routines of court life and the social engagements she undertook may have aided her as she navigated her life without her husband and eldest son.
Her letters, diaries, and calendars are crammed with visits to local societies, opening new buildings, and attending events and her expenses note contributions to many causes, including Guide Dogs for the Blind and numerous children's welfare charities.
Another role that consumed large amounts of time and energy was her service from 1953 to 1967 as Mistress of the Robes to Her Majesty, Queen Elizabeth II. The role involved arranging service and duties for ladies-in-waiting who would support the Queen at functions and other engagements as well as attending the Queen herself. The Duchess was often called on to offer advice on various matters and her service and seniority was recognised in the many orders awarded to her by foreign dignitaries. The Duchess received orders from nations including Austria, Ethiopia, Nepal, and Sweden.
The Queen personally appointed the Duchess a Dame Grand Cross of the Royal Victorian Order in 1955, the honour is bestowed on the recipient personally by the monarch.
Mary, Duchess of Devonshire dressed in her robes wearing the Palm and Lotus tiara for the coronation of Elizabeth II
As Mistress of the Robes, Duchess Mary performed a significant role at the Queen's coronation in 1953.  It was Duchess Mary who assisted the Queen as she adopted her various vestments as part of the ceremony. As the coronation was televised and the Duchess herself was wearing heavy robes including a long velvet train it was vital that each movement was performed seamlessly.
The Duchess was appointed Chancellor of the University of Exeter from 1955 to 1972, the office of Chancellor is a ceremonial one, presiding over events such as degree awards.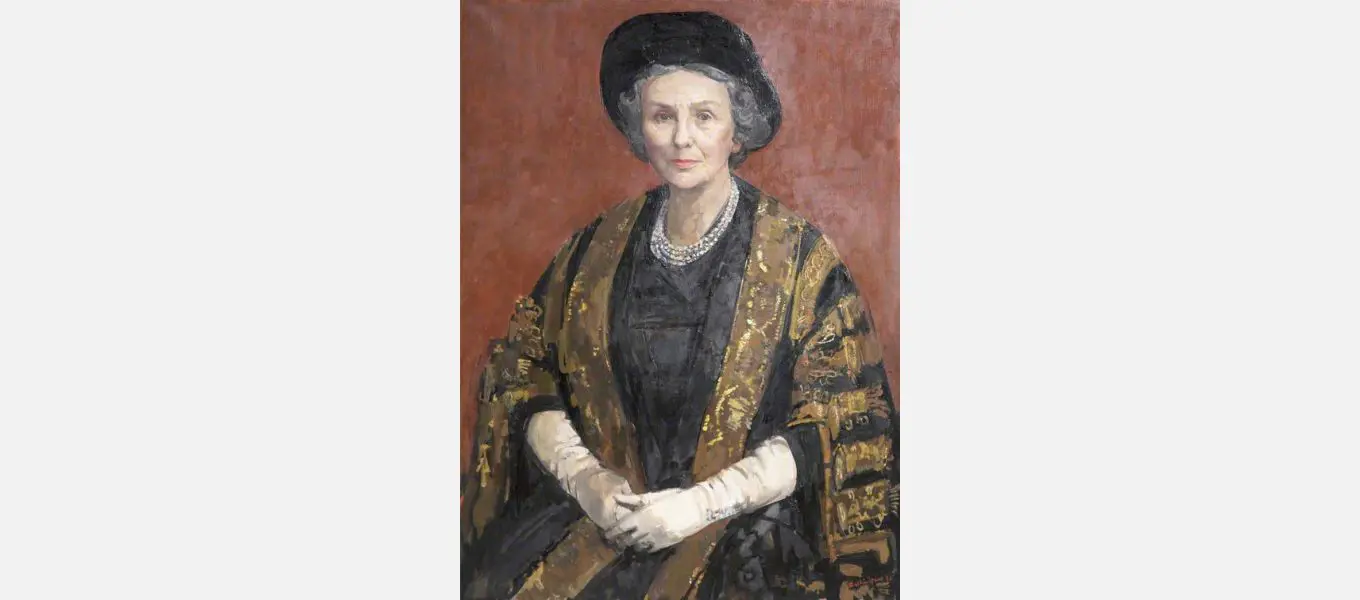 Mary, Dowager Duchess of Devonshire when Chancellor of the University of Exeter. 1966. Ruskin Spear 
We have a small group of objects belonging to the Duchess, a silver shagreen handled magnifying glass which sat on her writing desk alongside some colourful Chinese hardstone carvings. The carp is wonderfully tactile and it's easy to imagine her holding it, rearranging the stones perhaps as she spoke on the telephone.
We also have a silk-lined box crammed full of small treasures, thought to have been collected by Duchess Mary. The sorts of things perhaps found in drawers and brought together for safe keeping.  In the box are a tiger's claw, a gold and turquoise collar stud, some silver filigree, a viniagrette case, a small gold butter or fruit knife with a lapis lazuli handle, an embroidered needle case from the early 1800's and many other things.