It is important to us that our waste is separated and treated properly, and as such we monitor our waste streams on an annual basis.
Our first aim is to reduce the volumes of waste we produce by reusing materials where possible and working with our suppliers to limit the volume of material coming on to site. We then look to increase the amount of recyclable material which is separated on site.
None of our waste ends up in landfills, with non-recyclable material incinerated at waste-to-energy plants.
The graph below shows the waste directly produced by the Devonshire Group's operations and activities. Recycled waste includes all waste streams that are separated on site (cardboard/paper, glass, tins and plastic which are recycled, and food waste which is directed to Anaerobic Digestion plants).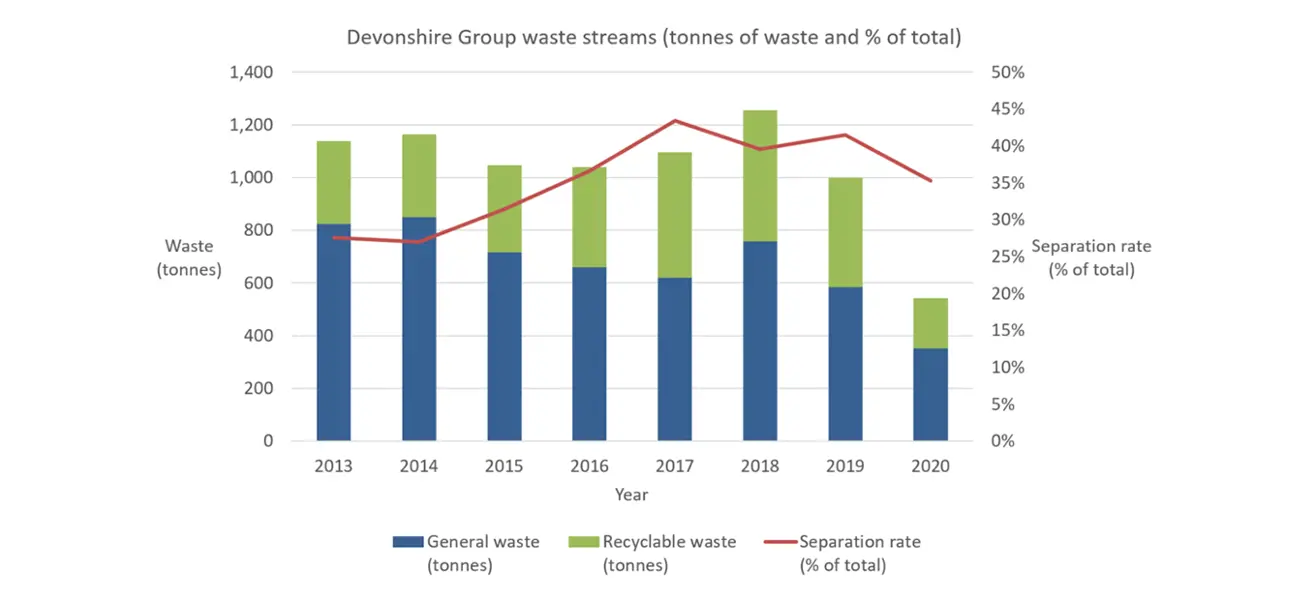 What have we done so far?
Waged a 'war on plastic' - cutting out avoidable single-use plastic from our operations
Introduced recycling for offices and back-of-house operations, including collecting crisp packets
Organised an annual litter pick - in 20

20

, more than 90

volunteers removed over 150 bags of litter from 30 miles of countryside routes
Eliminated landfill for our Derbyshire sites
Started sending food waste to an anaerobic digestion plant to be converted into energy
Introduced visitor waste recycling facilities
What's next?
Continue to decrease the volume of waste we produce
Further improve our visitor waste recycling.